Prejšnji teden nas je poleg Essence Into The Ocean TE razveselila še Essence Summer Of Love omejena izdaja.
Danes boste spoznali prvi del naših novih hipi prijateljčkov.
Moj favorit iz te kolekcije je Always Hippie lakec. Gre za čudovito bronasto-rjavo barvo, ki ima večino časa kovinski videz, le na soncu pride do izraza bogat večbarvni šimer.
Lak  je enostavno prečudovit, vendar na meni grozno muhast. V zadnjih dneh mi je povzročil nemalo sivih las. Očitno mu trenutno nekaj ne ustreza – pa naj bo to temperatura, vlažnost, podlak ali kaj drugega, vendar se ni in ni dal nanesti brez mehurčkov. Ker sem ga že imela na nohtih brez mehurčkanja, vem da gre za splet okoliščin a nisem ugotovila kaj mu ne paše.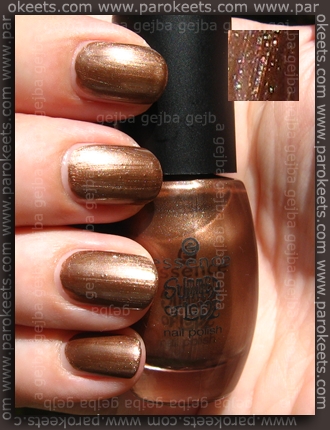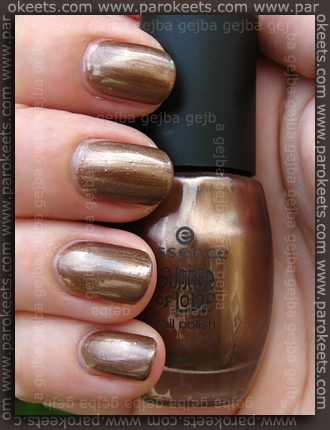 Njegov bratec, Summer Of '69, je udaren zlat odtenek, ki v senci pokaže svoj bronasto-zlat obraz. Zelo všečen odtenek, ki vam bo polepšal še tako kisel poletni dan.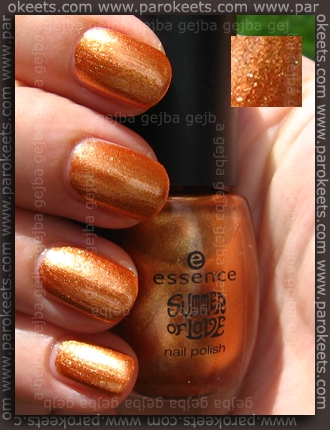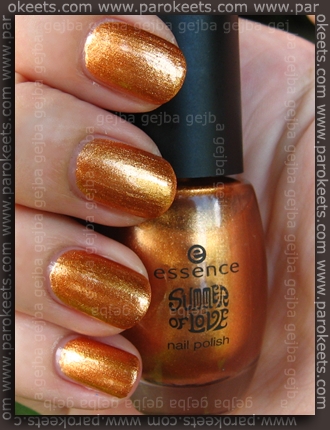 Zadnji, a nikakor manj pomemben, je Essence Psychedelic glos. Prvi vtis je fantastičen. Glos je rahlo pigmentiran, nelepljiv, vlažilen in hranilen. Ne vsebuje šimra, vendar da ustnicam čudovit sijaj.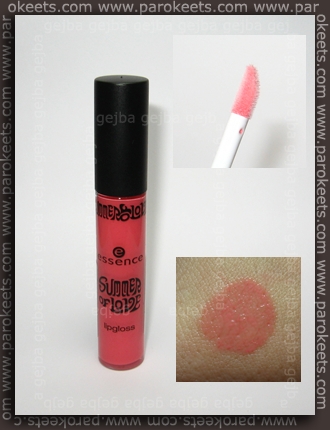 Cena za lak ali glos je okrog 1,70 EUR.
Od prejšnjega tedna dalje imajo v nekaterih DM drogerijah Essence izdelke. Jaz sem navdušena – končno se bomo lažje dokopale do izdelkov iz omejenih izdaj.
V naslednjem delu vam bo Maestra prestavila še preostala laka iz kolekcije ter zelen liner/senčko.
Že imate kaj iz te kolekcije? Kako ste zadovoljne z izdelki?