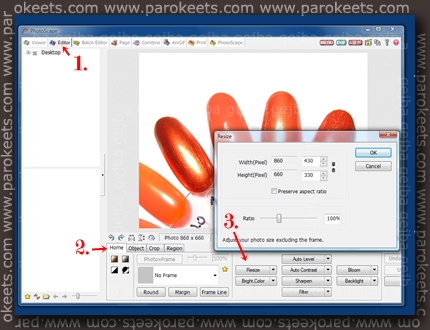 All the images that you send us must have the following dimensions: 300 x 400 or 400 × 300 pixels.
I made tutorial in Pain, since most of you have it installed on your computers. You can find it if you go to: Start – Programs – Accessories – Paint.
Open the photo: File – Open – choose photo and click Open.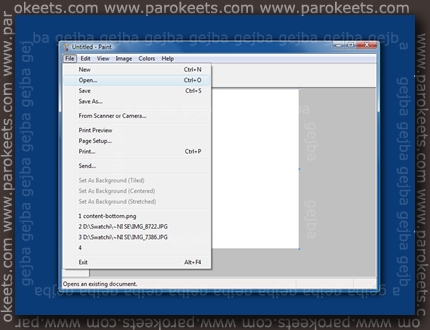 If you have very large photo go to: Image – Resize/Skew. I chose 80% in Horizontal and Vertical fields to reduce size for 20%.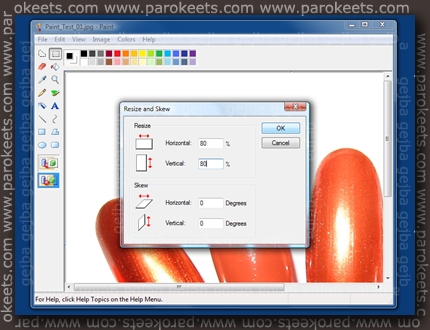 Select the whole photo: Edit – Select All. Go with the mouse to the bottom right corner, press the left mouse bottom and drag the border so long that you get the right size (300 x 400 or 400 x 300 pixels).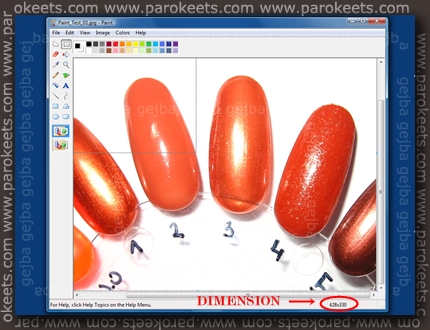 Repeat the last step – once more mark the blue spot in the bottom right corners and drag it to the same size you choose in the previous step.
Save file at – File – Save As and that is it.
However, this takes time to do, so I suggest you install PhotoScape. This is free image editing program with lot of useful functions. For picture resize go to Editor – Home – Resize – select desired size and don't forget to unpick Preserve aspect ratio option.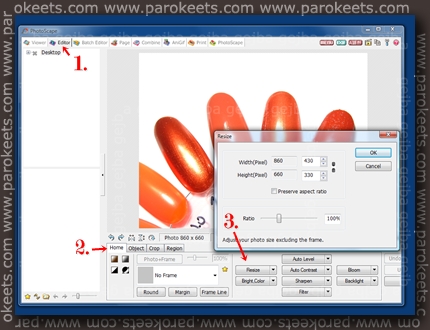 The exact size is very important because all the photos will be protected by Parokeets frame. In the event that the file does not have the specified size, the frame or cover up part of the photo, or the photo will be distorted.