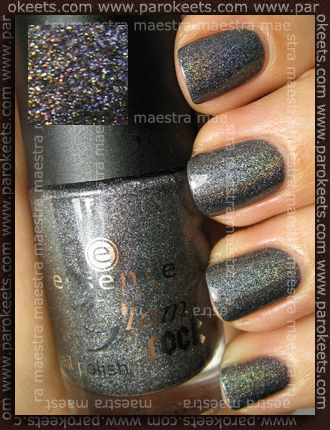 Updated on 24.6.2009:

Due to popular demand we have extended the time for you to submit your entries. You can now submit your entries up to 11:59 PM on 5.7.2009.
Did you miss Essence Glam Rock or Pure Beauty nail polishes? Here is the chance to get one, two or three.
All you need to do is send us a photo of your manicure on the theme "Nails are my joy". We'll pick 10 photos and publish them on our blog. Visitors of www.parokeets.com will then decide who gets the polishes.
We will consider any and all photos sent to our email before midnight central European time (GMT+2) of 26.6.2009. Here are the instructions:
– names of items used (read: polishes) must be evident from the photos or stated in the accompanying email;
– you must be a registered member of our blog and must provide us with your username in the email accompanying the photos;
– photos must be your own creation, which must be obvious from the photo = you can get creative and draw our logo on your hand or put a piece of paper with your nickname near you hand – it's up to you. HERE is example how it could be done – you can even send us one photo with the paper and the same photo without it (this one will be published).
– send your photo to our email address blog

parokeets.com;
– you can enter up to 2 photos in this giveaway;
– size must be 330×430 or 430×330 pixels;
– by sending us your photos you explicitly permit their publication on www.parokeets.com.
Author of the best photo, chosen by our readers, will get: Essence Glam Rock Metal Babe, Pink Punk, Gothic Girl and S-he Stylezone 427.
Based on popular vote the second place will be awarded Essence Glam Rock Metal Babe and Gothic Girl and S-he Stylezone 427, third place Essence Pure Beauty Naked Truth, fourth place Essence Pure Beauty Honey Bun and Essence Pure Beauty Innocent for fifth place.
Let me remind you which polishes we're giving away. All photos were kindly provided by our Maestra:
Essence Glam Rock – Metal Babe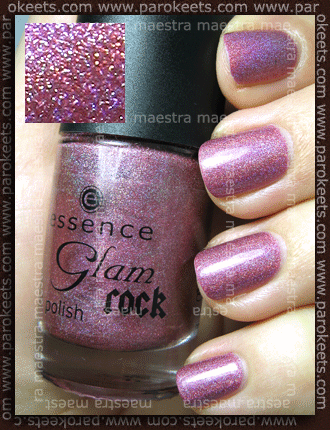 Essence Glam Rock – Gothic Girl
Essence Pure Beauty – Naked Truth
Essence Pure Beauty – Honey Bun
Essence Pure Beauty – Innocent
S-he Stylezone – 427 (vs. Glam Rock Pink Punk)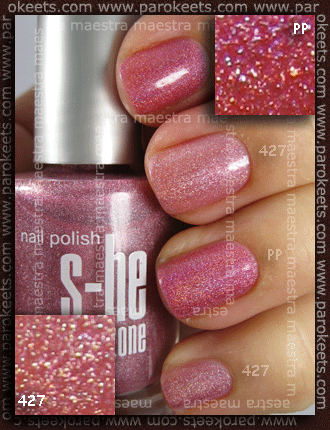 Giveaway is open to all residents of planet Earth. We'll ship to any country, but unfortunately can not accept responsibility for lost or damaged shipments and due to the limited number of polishes available we can not provide replacements for such shipments. You will however always receive your due bragging rights.