Hello Parokeets and all other sorts of colorful little parrots, who like to read this blog!
I would like to present my favorite nail polish to you. It's Nfu-Oh No. 64.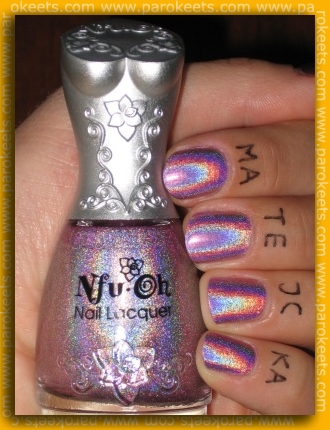 This polish is really amazing to me. What I like the most is the holographic effect, which almost blinds me every time I look at it. The rainbow is the most visible on the sun, but it still glows in shadow or indoors. I think it isn't visible only in the darkness. :) The bottle is beautiful too, it looks like a dress and the cap looks like a corset above it. It contains generous amount of polish – 17 ml.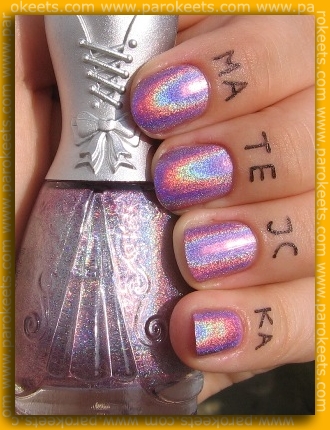 Have you ever found yourself in a situation, when you were searching for the holographic effect on the nails, which wasn't very visible? Well, I had the opposite problem. I really had to try my best to find the base colour. :)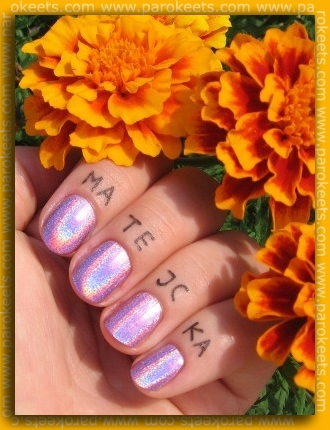 The definition of this colour was a lot of trouble for me. On the nails you actually can't see it, because it is very shy and hidden under the rainbow. That's why the real shade was a secret to me until I became an owner of matte nail polish. When I painted it above the Nfu-Oh 64 it showed its actual colour, because it killed the multicoloured shimmer. I still don't know how to describe the base colour, to me it looks like lavender with a touch of pink. You can see it on the photo below.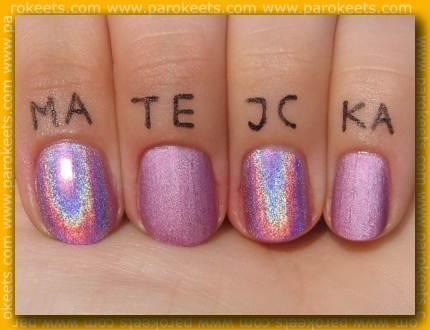 What a surprise! My favourite nail polish, but with just average base colour. And despite of all it is still the one, which draws me to look at my nails more times than all other polishes I own!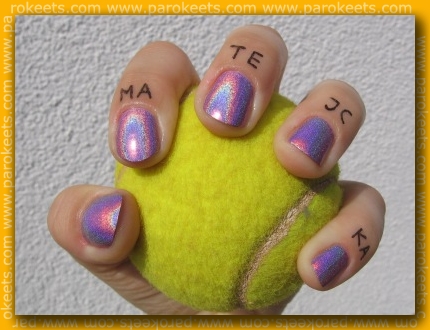 And how do you feel about it? I hope you like it, but if you don't love holographic nail polishes, I strongly don't recommend it to you. :)