Not so long ago, Maestra gave you a hint that there is a surprise coming up. She also told you that you need to subscribe in order to participate. Today is the day for the promised surprise.
With this surprise we want to thank the registered reader, who submitted the most comments during the age of Essie up to 18:00 GMT+1 today (06/Sep/2009).
Our thanks go to Nati!
With her many comments, Nati earned Essie's Aruba Blue nail polish!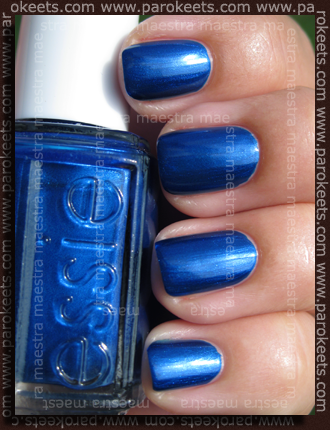 Nati, thank you for all of your comments!
And on this note, we'd like to thank all our faithful readers. Thank you for your support and all your nice words! You are the ones, who give us the drive to write and photograph. Thank you for sharing your experiences, your thoughts and all the love for all things beautiful with us!
We also want to send a big 'thank you' to Čarodejka, who contributed the prize.
In conclusion we'd like to remind you of our challegne and oppurtunity to earn yourself instant eyeshadows from Eye Majic. Read more about it HERE.
Have a nice evening!