Voting is now closed and you can see the results on the right side of the blog. We added up the votes from English and Slovenian part of the blog to get the winning photo of Halloween Special contest.
CONGRATULATIONS BLOO!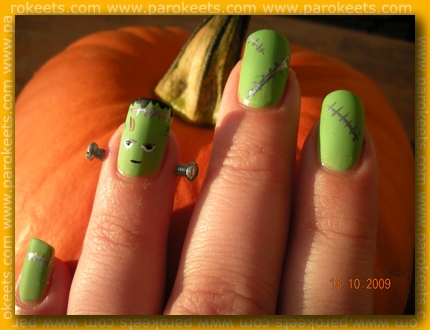 winning photo
108 of Bloo's fans voted for her manicure. She'll receive Essie – Swing Velvet polish, Essence – Stampy Set and surprise … Essie – Pink Parka mini polish.
But we prepared a couple of additional surprises for our contestants. We decided to reward second and third manicure as well.
Second place goes to Camy with 67 votes. Her prize is an Essence – Stampy Set and two testers of Eye Majic instant eyeshadow.
Third place belongs to Nati with 42 votes. She'll receive an Essence – Meet You In Budapest polish.
CONGRATULATIONS CAMY AND NATI!
Bloo, Camy and Nati, if you wish to receive your awards, please contact us at blog

parokeets.com.
We would like to thank all competitors and those of you who voted.
We also want thank Čarodejka, who contributed the Essie – Swing Velvet polish.