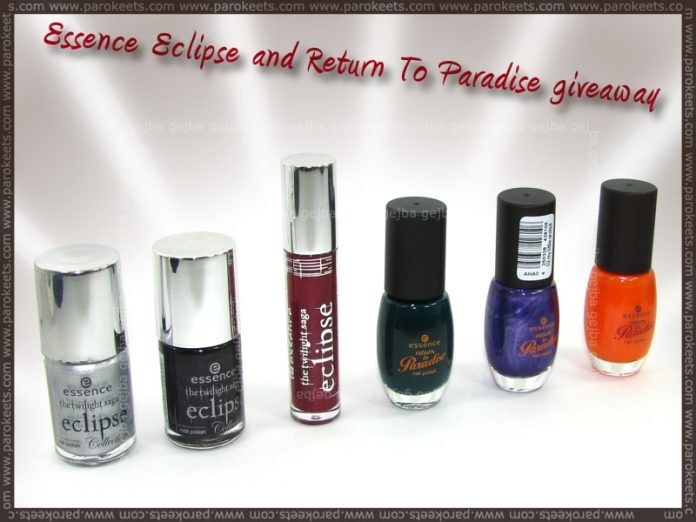 A lot of our readers has a huge lemming for some of the Essence Eclipse or Return To Paradise items. We decided to have mini giveaway and make at-least one of our followers wish come true.
We chose three items from each TE:
Eclipse: Undead and Hide Bella Hide polishes + Lunch At Cullen's lip gloss;
Return To Paradise polishes: My Little Orchid, Back To Paradise, Sun Downer.
Rules:
you have to be visible follower on our Google Friend Connect to enter this giveaway;
leave us a comment bellow this post saying you would like to be part of this giveaway with your email and nickname in Google Friend Connect;
there will be only one winner (if we don't get a response in 48 hours after we send you email, the second picked will be contacted and given opportunity to receive the prize …)
giveaway is International;
computer program will pick the winner.
All products are new and sponsored by Parokeets ladies.
Giveaway will end on 07.07.2010 at midnight (GMT +1).
We hope you like our mini surprise.
P.S. Similar giveaway will be held on our Facebook fan page so feel free to join that giveaway too.