First 4 will be one of my favorite eyeshadows at the moment …
Angelique: baby pink colour, very nice to apply and easy to blend with other colours.
Amethyst: my favorite of all. I use it almost every day (I'm running out of 2nd jar ). I usually apply it all over the lid and only one dark violet or black or any dark e/s in crease and that's it.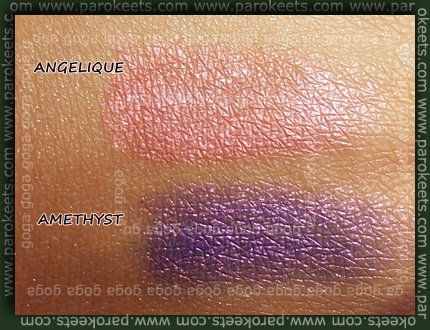 Coral pearl: is very light colour. I use it for highlight under my eyebrows and inner corners.
Coral: very vibrant summer shade. Lately I use it very often (I apply it all over the lid and add a taupe colour in crease).
All are beautiful not very shimmery e/s. They also are very pigmented.
I used ArtDeco ESB for all the swatches.
For base I'm using ArtDeco ESB or GOSH waterproof e/s. Unfortunately Gosh is no longer available here in Slovenia
How do you like these e/s colours?