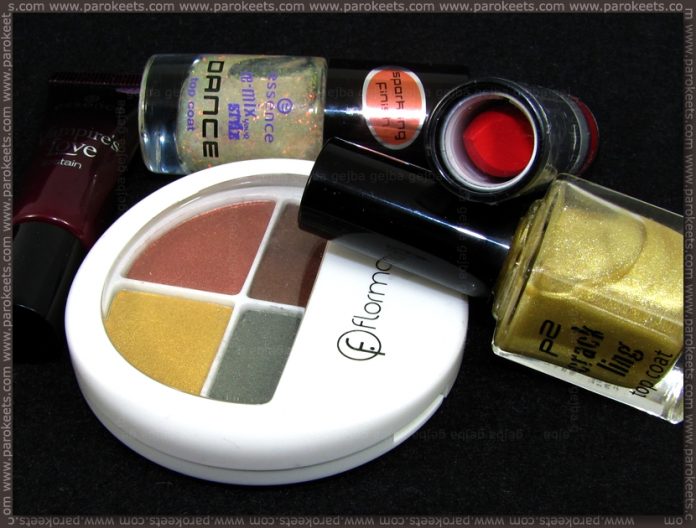 We loved your suggestions from the last survey, so we're doing one this year too.
We incorporated about 70-80% of your wish list from last years survey … they were that good and helpful.
Some of the ideas were technically either in the realm outside our budget/capabilities or what is secure … like publishing whole posts in RSS feed. That is one of the most common ways for evildoers to copy whole blogs, so that is not something that will ever be enabled on Parokeets blog. Unfortunately watermark is not going anywhere either. You say copyright and majority of Internet users replies … what is that.
Swatches of whole collections seem to be popular wish. You can trust us on this – if we had enough money (and space), we would buy most of the collections available.  :D
Survey is completely anonymous, so please feel free to write down anything you want. But since we still wanted to organize small "thank you" giveaway for those of you who wish to participate in it, we added in the beginning of the survey 2 fields in which you have to enter:
imaginary name – preferably longer one with numbers (will be publishes if you win the prize);
secret password – known only to you (and us), so we can verify the winner. And don't forget to write it down.
Giveaway prize: Essence Waking Up In Vegas, Essence Bloody Mary lipstain, p2 Golden Rush crackle, Revlon Strawberry Suede lipstick, Flormar Quartet Eyeshadow 408.
Google review is taking too long (they said 3-4 days, but it looks more like week+), so we made survey on WordPress platform to serve as a quick fix. We'll add these answers to those from GoogleDoc survey. If you're not sure if we received your Google survey or not, write your imaginary name in the comments and we'll check.
Survey is now closed. Thank you all for your answers.