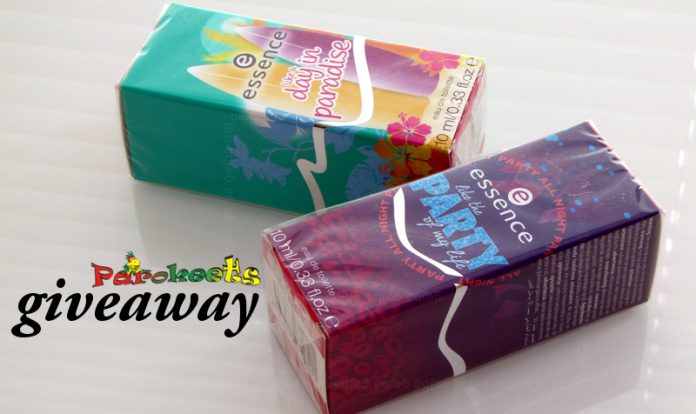 Hey ladies!
Long time no see. 
I got a chance to try out some new Essence fragrances we received as one of the gifts – part of the Essence blogger event.
So the first one is LIKE A DAY IN PARADISE.
Before I even read the description I smelled the Piña colada cocktail. Which is one of my all time favorite. It is really suitable for hot summer days. It's not too much sugary and it is very fresh fragrance. It's like summer in a bottle. I only dislike the lasting power which is like about 2 hours.
Description form Essence web page:  fine, white sandy beach, clear turquoise water and the pleasant feeling of the sun's rays on your skin. this warm, floral and sunny fragrance whisks you away on a trip to paradise and spreads a pure summer feeling with its lemon, magnolia, apple and coconut milk scent!
[one_third]Top note
peach
lemon
rhubarb
black currant
[/one_third]
[one_third]Middle note
[/one_third]
[one_third_last]Base note
sandalwood
vanilla
coconut milk
[/one_third_last]
Second one is LIKE A PARTY OF MY LIFE.
First when I opened the bottle and smelled lilly of the valley and lemon, after that nice sugary scent (maybe too much for my nose, but still ok). Then I tried it on my hand to see how long it lasts and first smell is from the citruses (lemon and orange) after that jasmin and last vanilla and sandalwood. I really liked it  since I love vanilla scent. Smell is soft and not too much annoying. It lasted for almost 4 hours. And after few hours I could only smell vanilla which I like.
Description on Essence web page: exuberance, fun, great music and your best friends: those are the nights that should never end! vibrant, floriental and mysterious, this fragrance contains citrus fruits, jasmine, rose and sweetness of vanilla as well as musk to convey the feeling of a party night that will never be forgotten! we love to dance.
[one_third]Top note
lemon
orange
apricot
hyacinth
lily of the valley
[/one_third]
[one_third]Middle note
osmanthus
jasmine
rose
violet
[/one_third]
[one_third_last]Base note
vanilla
musk
sandalwood
cedar wood
[/one_third_last]
[divider]
Must say that both are a quite good value for price (in Slovenian drugstore about 7,49€ for 50ml and 3,49€ for 10ml).
Suitable for young girls or maybe also Maybe also for older girls like me as an every day fragrance  

Till next time…
P.S. Giveaway is this time open only to the Slovenian girls due to the nature of the prize. But we will soon host one that will be international.