Ebony shimmer – zelo luštna rjava/taupe senčka. Primerna za vsakodnevno uporabo. Ni zahtevna in se lahko pokombinira s katero koli drugo barvo.
Firefly – bronz barva. Takih barv sploh ne uporabljam. Imate mogoče kakšen predlog s katerimi barvami bi jo lahko kombinirala?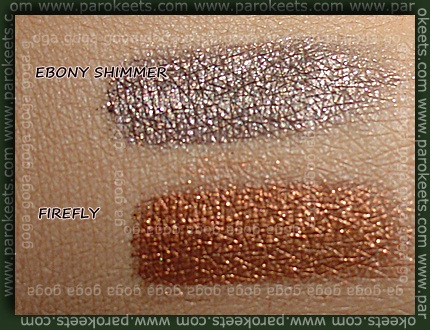 Forest matte – temno siva mat barva. Jaz sicer mat barv ne maram (vsaj kar se mineralnih tiče). Nekako jih ne znam lepo namazati na veko. Ta barva bi se mogoče lahko uporabila kot liner.   Imate ve kakšen drugačen predlog?
Onyx & Diamonds – temna barva s srebrnim šimrmom, ki pa je na žalost kar moteč. Pri nanašanju ni odveč pazljivost, ker se le ta kar hitro znajde na vaših licih.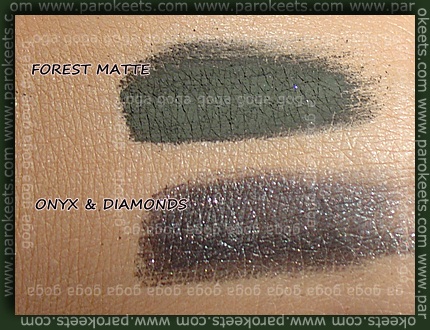 Svi swatchi so naneseni čez ArtDeco eye shadow base (ESB).
Od vseh zgoraj omenjenih mi je še najbolj všeč Ebony shimmer. Zadnje čase kar pogosto uporabljam taupe barve. Jaz jo npr. nanesem čez celo veko in to je to – brez dodatkov (ok, razen maskare in linerja).