AUSTRALIAN GOLD Botanical Sunscreen Face SPF 50 – TINTED is my summer favorite sun protection so I simply have to talk about it.
Throughout this flood of reviews of SPF creams, you will notice a pattern … the majority of my sunscreen protection is SPF 50+ with mineral filters.
As I have sensitive, reactive skin with atopic dermatitis (eczema), I simply find mineral sunscreens to be better for my poor skin. Chemical filters tend to irritate while minerals soothe. So it really is a no brainer for me. Aesthetics was sacrificed on the altar of comfort.
But my husband says he is way too fury for mineral protection so chemical sunscreens with high UVA are definitively getting their 5 minutes of fame. :P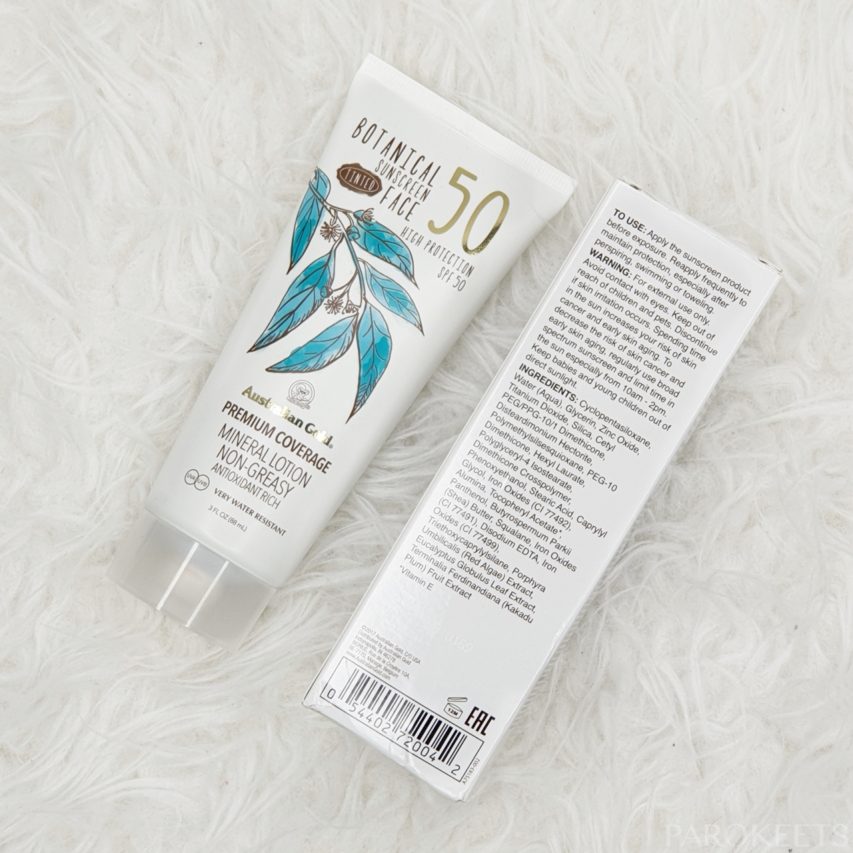 PRICE, AVAILABILITY
Prices are higher in the EU for Australian Gold products than in the USA, which is kind of natural as Australian Gold is the USA brand.
In Ulta, you would pay 16 $ for 88ml (3 FL oz), while in the EU price goes up to 28 EUR (0,26 EUR for 1ml).
INGREDIENTS
It contains both physical filters – Titanium Dioxide 4%, Zinc Oxide 4%, and no chemical ones.
For other ingredients, it depends if you have an old or new formula. I bought the new one, but the ingredients on the packaging don't match those on the insert so I can't say if I have a new or repurchased old one. I'll have to play with it a little bit more. The first time I put it on it seemed more moisturizing, but I had Survival 0 under it so not really a really fair comparison.
Red Algae extract seemed to be an irritation to some, but is suppose to have UVA blocking potential so … I am glad they left it in the new formula. Eucalyptus extract is also still there, so if it irritated you in the old version …  you are still out of luck with this one.
If you add into the mix that it contains more than one iron oxide which amplifies UVA protection … especially blue light protection fans will be happy with this info.
It does contain vitamin E, but less than one percent so …
Sun protection:
UVB – SPF 50
UVA  – 19,2 PPD
It holds a very water-resistant claim and it lives up to it in my opinion.
I experienced no irritation from this sunscreen and neither does my 6-year-old. I can apply it close to the eyes, but it sets into wrinkles and looks horrible.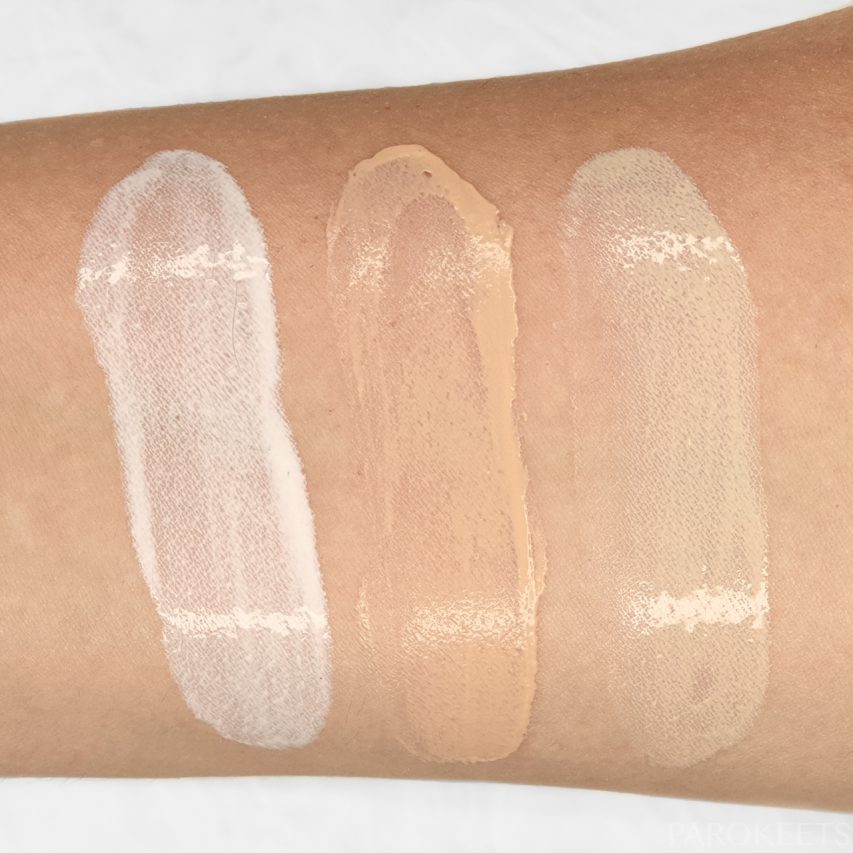 WEARABILITY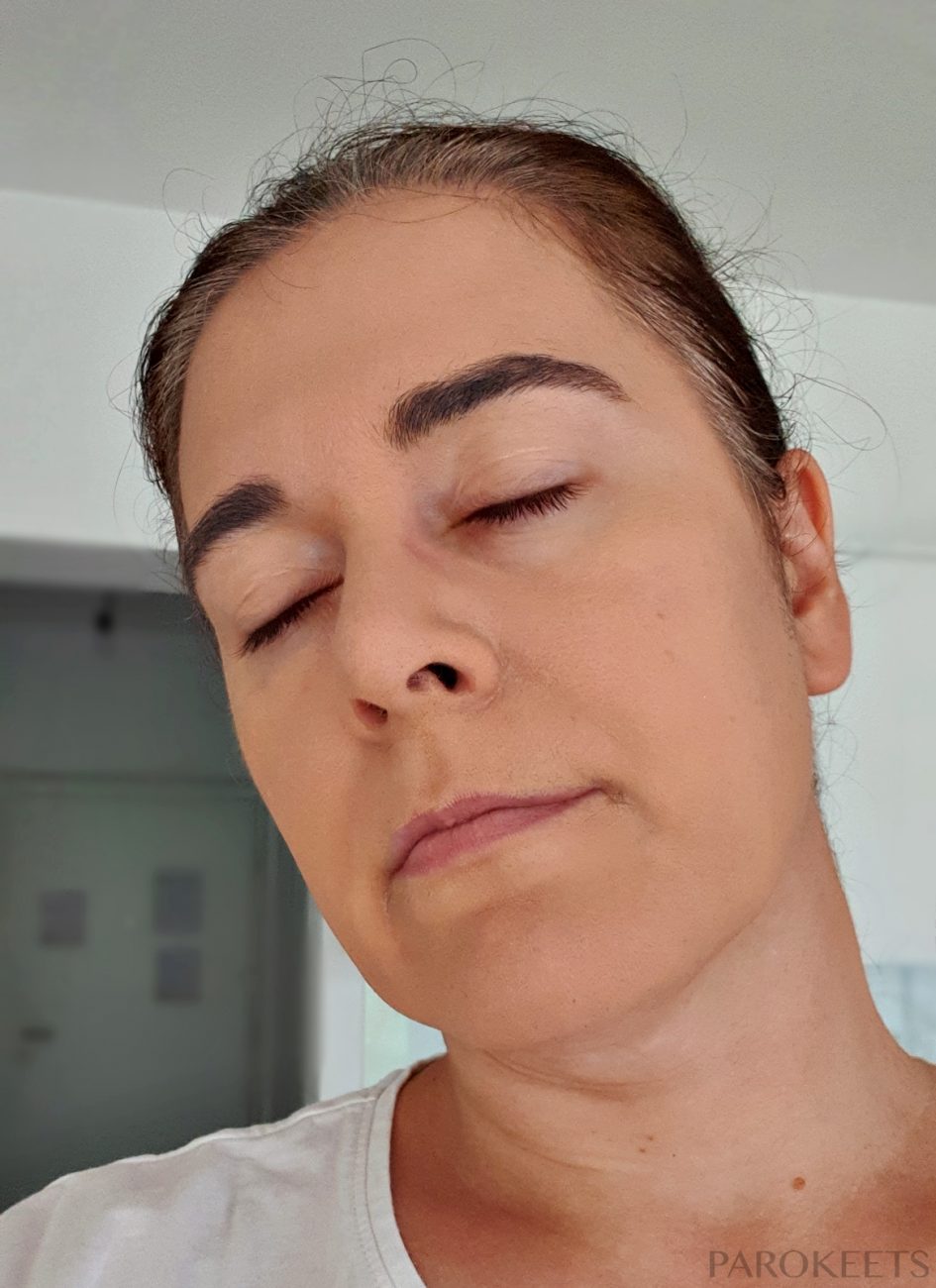 Don't let the mineral "lotion" fool you – this is a dense silicone mussy kind of formula. It tends to dry down fast, so quick application is a must. Once it sets, the transfer is not bad on my oily skin. Is not really sticky and doesn't leave a film.
It doesn't really set into wrinkles either. If I strictly apply it onto dry face, which is currently mission impossible as I never stop to sweet, It stays put. If not, then it will break down after 6-8 hours.
Fair to light shade is still too dark for me + it oxidases on me. I turned into a pinkish kind of shade … not pretty, but not bad either if I take it down the neck. My daughter will tell you that pink is always better than white. :P
I can't really wear makeup over it as it dries down in a rubbery dry finish and there are not many foundations that work with that kind of base.
In all honesty, I see no need for additional foundation – it blurs down my pores, covers slight redness, and gives a little bit of coverage.
I can sweat under it, but at the same time, all those gallons of it don't really budge the SPF from my face.
On the other hand … this is one of the hardest sunscreens to remove from the face. This sucker sticks to my skin closer than a tick. Double cleanse (warmly recommend cleansing balm for the first cleanse) and silicone sonic brush is my best friends in the summer evening routine. If I manage to thoroughly remove it from my skin then I have no real issues with clogged pores.
The formula is the main issue for the replication problem – I usually remove everything and apply it from scratch.
SCENT is there, but goes away and is not the perfumed kind so it doesn't really bother me. The last tube I bought has slightly more scent to it … burned kind of smell. And it feels a little bit more slippery formula.