Danes sta na vrsti še zadnja dva odtenka iz Multi Dimension linije v tem Essence tednu.
Prvi je koralni odtenek Why Not? s "frost" finišem. Nanaša se lepo. Opazne so proge od čopiča, a to je zgolj zaradi finiša. Na fotografiji sta 2 plasti.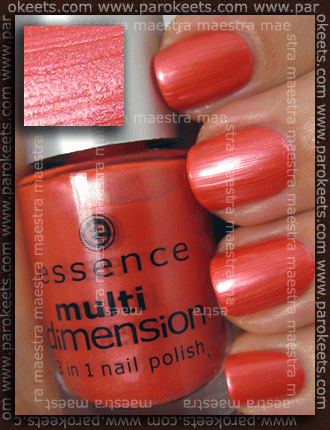 Drugi je čudovit temno rjav odtenek z imenom Spicy. Nanaša se popolnoma brez težav. Na fotografiji sta naneseni 2 plasti.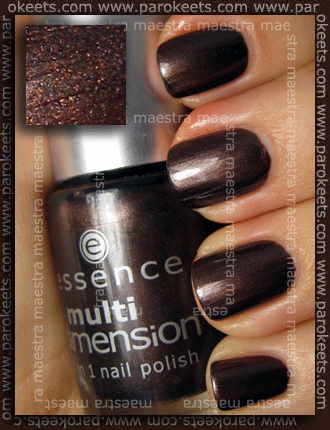 To je bilo zaenkrat vse iz Multi Dimension linije. Še enkrat bom napisala, da sem s to linijo zelo zadovoljna. Med vsemi odtenki, ki jih imam, ni bilo nobenega, ki bi me razočaral.
Počasi se bližamo koncu Essence tedna. Jutri pride na vrsto še Essence Glam Rock Trend Edition kolekcija, v sredo pa pogled v prihajajočo Trend Edition kolekcijo…