Nova kolekcija znamke Essie za pomlad 2009 je sestavljena iz šestih krem odtenkov, kar bo razveselilo ljubitelje krem lakov. V tej kolekciji se najde skoraj za vsak okus nekaj. Od nude in nežno pink odtenka in vse tja do modrega odtenka za malo bolj drzne.
Promocijski material izgleda takole: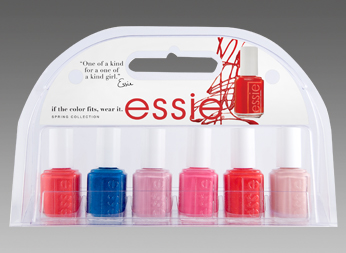 Odtenki so naslednji:
Lacquered Up – Red Hot Crimson
Flawless – Cherry – Blossom Pink
Eternal Optimist – Spiced Tea Rose
Mesmerize – Royal Va-Va Blue
One Of A Kind – Poppy Red Kiss
Status Symbol – Feisty Hot Pink
Zaenkrat imam za pokazati samo dva odtenka – Mesmerize in One Of A Kind. Tretjega – Status Symbol pričakujem naslednji teden. Preostale tri sem zaenkrat izpustila, ker me (še) niso dovolj prepričali.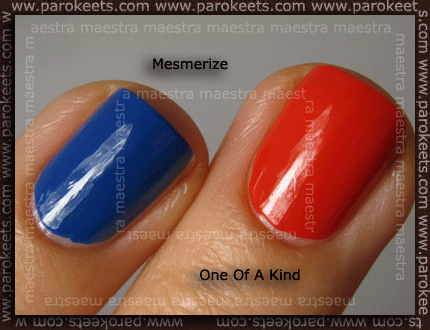 Mesmerize je krem modra, na katero je marsikdo čakal. Srednje temna krem modra, ki se po vrhu še krasno nanaša in je zelo dobro pigmentirana. Nanaša se popolnoma brez prog in zadostujeta dva nanosa.
One Of A Kind je oranžno-rdeč krem odtenek, ki se prav tako krasno nanaša in je super pigmentiran. Na fotografiji je nanesena samo ena plast!
Takoj, ko sem zagledala One Of A Kind, sem pomislila, da je zelo podoben odtenku Escapades iz lanske Essie poletne kolekcije. Naredila sem primerjavo in ugotovila, da sta si podobna, nista pa identična.
Kot sem že napisala, odtenka sta podobna, nista pa identična. OOAK ima bistveno več oranžne v sebi kot E.
Takoj, ko dobim Status Symbol, napišem še kaj več o tej kolekciji…