Prepevam si: "It's a Happy Day…" Se sprašujete zakaj? Ker sem odkrila nekaj neverjetnega! (Ne, nisem odkrila, kako postati Bananawoman. ) V drogeriji DM sem odkrila lak s holografskim šimrom! Še sama ne morem verjeti, da to obstaja. In to od znamke S-he Stylezone. Torej si lahko mislite, kako sem vesela. Dobila sem holografski lak in še poceni po vrhu! Dvojno veselje.
Gre za odtenek s številko 427. Do sedaj ga še nisem opazila, čeprav sem že prebirala, da naj bi tudi S-he znamka imela holografski lak. Niti v sanjah si nisem upala želeti, da ga kje najdem. Tako sem celo pozabila upati, da ga kje najdem. In sedaj ga imam. Takoj sem naredila primerjavo z Essence odtenkom Pink Punk iz Glam Rock Trend Edition-a.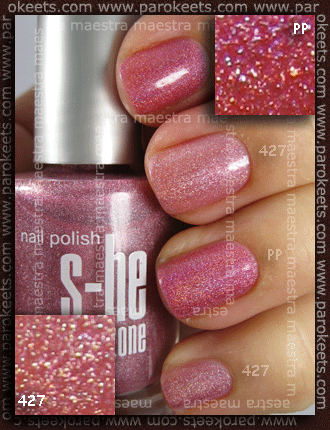 Na zgornji fotografiji je en nanos. Odtenka Pink Punk (PP) in 427 sta nanesena izmenično: na kazalcu in prstancu je Pink Punk, na sredincu in mezincu pa 427. Razlika med njima je očitna. 427 je manj prekriven in precej svetlejši od Pink Punk odtenka.
Dva nanosa…
Po dveh nanosih je na mojih nohtih tudi 427 popolnoma prekriven. Holografski učinek je nekoliko manj opazen kot pri Pink Punk odtenku. Na spodnji fotografiji sem poskušala ujeti ta holografski učinek, čeprav mi ni najbolje uspelo.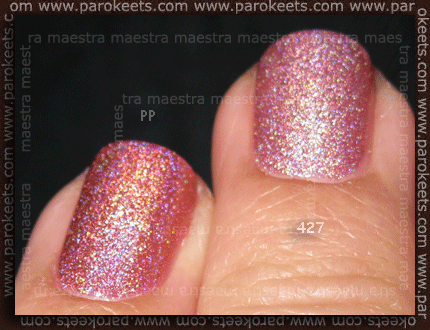 Tole je zame zagotovo odkritje meseca! 427 mi je celo bolj všeč kot Pink Punk. Sama barva mi je lepša, saj gre bolje z mojo poltjo.
Kaj menite? Boste morda zavili v najbližji DM pogledati, ali se holografski lepotec z imenom 427 skriva na polički in čaka samo na vas, da ga vzamete s seboj domov?