Danes imam za vas predhodno in trenutno manikuro. Obe sta "OPI manikuri".
Te dni sem prebirala, kako "vampy" odtenki niso za poletje ipd. Tudi meni poleti temni odtenki ne odgovarjajo najbolj, a sem se zamislila. Ti temni odtenki v slabši svetlobi večino časa izgledajo skoraj črni. Tako je treba izkoristiti sončne dni, da se ti sramežljivčki pokažejo v vsej svoji lepoti. In res sem to storila. Moje nohte je krasil lepotec OPI – Ink, o katerem sem že pisala TUKAJ. Tokrat sem poskušala ujeti še vijoličen šimer, ki se v najlepši luči pokaže šele na soncu.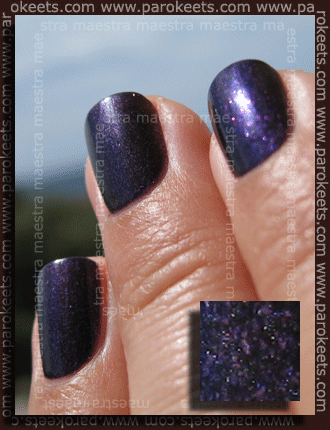 Poskus tudi tokrat ni bil sila uspešen, a za silo bo. Tega šimra enostavno ne morem ujeti, kot bi si zaslužil.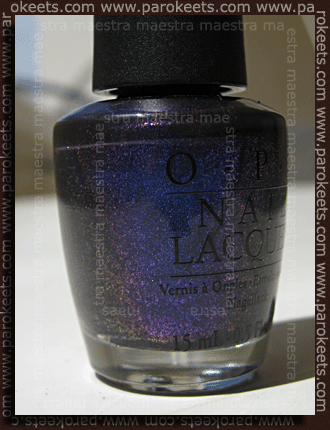 Nanos je malenkost problematičen, saj se lak občasno razlije pod obnohtno kožico in širok čopič ni v nobeno pomoč. Sicer nič hujšega, a vseno omembe vredno. Na fotografiji sta dva nanosa.
Moja trenutna manikura je kombinacija  OPI – Purple-opolis in DS Extravagance.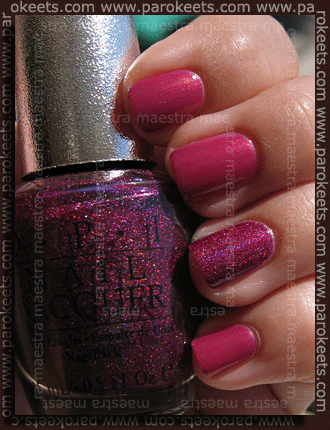 Purple-opolis je zelo lep vijola odtenek z rdečim podtonom in z zlatim šimrom.
DS Extravagance je krasen vijoličen odtenek s holografskim šimrom. Ta je zame eden najlepših odtenkov "ever"!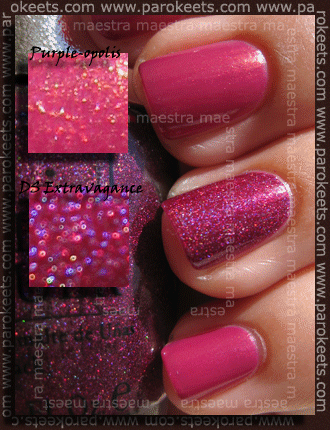 Zgornja fotografija je namenoma malo zamegljena. Tako pride holografski šimer bolj do izraza.
To je zaenkrat to… Upam, da se imate lepo in uživate!