S-he Stylezone – 15 je krem živa oranžna. Gre za manjšo stekleničko od običajnih, zato nisem prepričana, ali je ta odtenek še na policah. Na fotografiji sta dva nanosa.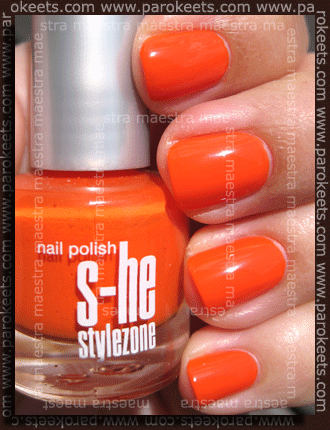 Look by Bipa – Sunset vs. Essie – Chubby Cheeks vs. China Glaze – Vintage Crepe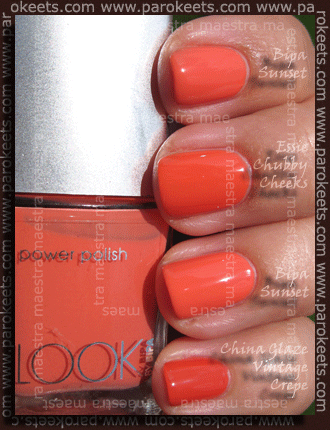 Vsi odtenki so krem. Iz fotografije je razvidno, da odtenki niso identični. Sunset je najsvetlejši. Chubby Cheeks ima že več oranžne v sebi, medtem ko ima Vintage Crepe v sebi še nekaj rdeče. Z nobenim nisem imela problemov pri nanašanju. Vsi so naneseni v dveh nanosih.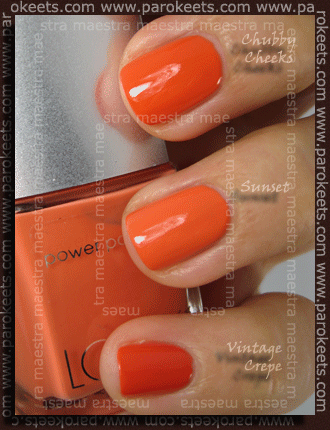 Jessica – Downtown je zanimiv odtenek. V steklenički mi je zelo všeč, na nohtih pa ne tako zelo. Gre za lep koralen odtenek z zlatim šimrom in frost do minimalno kovinskim finišem. Morda je spet frost finiš tisti, ki je težaven zame. Prav tako je odtenek nekoliko prosojen. Na fotografiji so trije nanosi.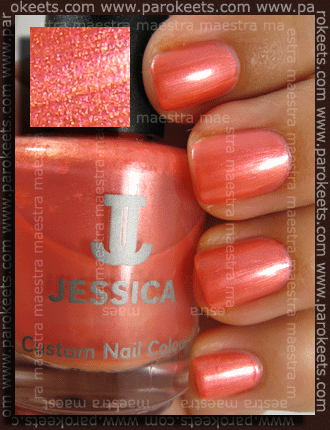 Essence – Object Of Desire vs. Alessandro – 253 vs. Rimmel – Sunrise vs. NYX – Sorbet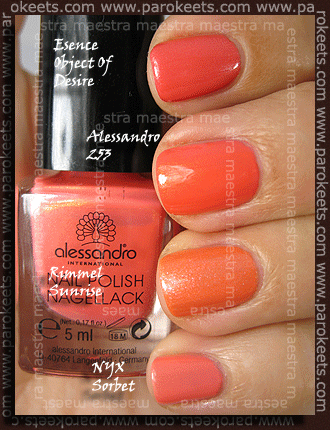 Tudi med zgornjimi odtenki ni dveh, ki bi bila identična. Object Of Desire in Sorbet imata v osnovi precej roza barve, medtem ko sta 253 in Sunrise bolj oranžna.
Če ste slučajno zamudili prvi del oranžnih lepotcev, si o njih lahko preberete TUKAJ.