Kot že sam naslov pove, uradno začenjam Essie obdobje. Kaj to pomeni? To pomeni, da boste v prihodnje videli precej odtenkov znamke Essie, katero sem v zadnjem času rahlo zanemarjala. Razmišljala sem, kako naj se zadeve lotim. Ali naj naredim le Essie teden? Vendar ne vem, ali bi mi v enem tednu uspelo pokazati vse, kar bi želela. Prav tako mi postane zelo hitro dolgčas, če pišem vedno o isti znamki. Zato sem se odločila za Essie obdobje, v katerem bom poskušala vsaj dvakrat na teden pisati o Essie lakih za nohte. Poleg svojih zastavljenih ciljev, bom poskušala v prispevke vključiti tudi vaše želje in primerjave, prav tako bom pisala o svojih najljubših odtenkih.
Naj se otvoritev prične s fotografijami mojih vojačkov…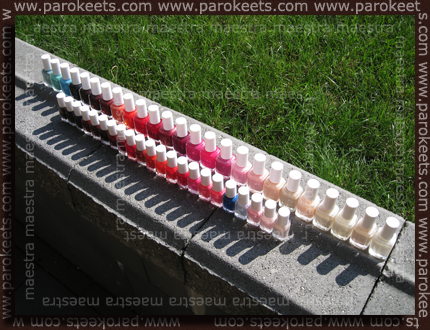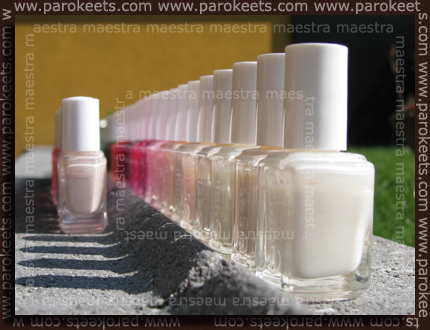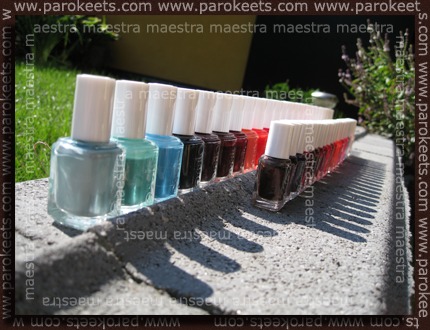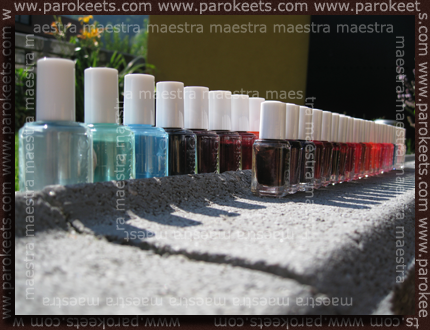 A niso privlačni ti mini vojački? Obožujem oglate stekleničke…
Zdaj pa povejte po pravici, koliko vas je šlo šteti vojačke? Koliko ste jih našteli?
Prilagam še seznam odtenkov, ki so (zaenkrat) v moji zbirki.
– Tennis Corset
– Glamour
– Natural Cotton

– Sophisticated Lady
– Trumpet
– Sand Of A Beach
– Nude Beach
– Tea & Crumpets
– Pink Diamond
– My Private Cabana

– Hi Mantenance

– Hard To Get

– Looking For Love

– Secret Affair
– China Doll
– Viva la vespa – tale je v skupnem skrbništvu :D

– Showstopper
– Bachelorette Bash

– Burma Ruby
– Sassy Satchel
– Bahama Mama

– Formal Affair
– Bordeaux

– E! Live From The Red Carpet

– Risky Bussiness
– Movers & Shakers

– Secret Stash

– Escapades

– Cat Walk
– Jag U Are
– Material Girl

– Handle With Flair

– Alligator Purse

– Decadent Diva
– Tomboy No More

– A Lot Of Shekels
– Over The Top
– Foot loose
– Damsel In A Dress
– Sexy Divide
– Bold & Beautiful
– Rock Star Skinny
– It's Genius
– Mesmerize
– One Of A Kind
– Chubby Cheeks
Žal ne morem obljubiti, da bom uspela izpolniti vse vaše želje. Vsekakor se bom potrudila izpolniti čim več želja. Svoje želje lahko napišete v komentarje ali pa mi jih pošljete po mail-u.
Hmm… A mi zaupate še vi, koliko in kateri Essie laki so v vaši zbirki? Kateri so vaši najljubši odtenki? Vse me zanima …