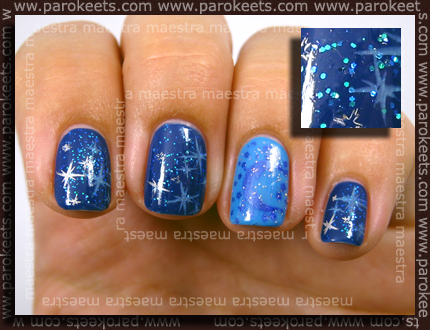 Danes vam bom na hitro predstavila svojo trenutno konadikuro.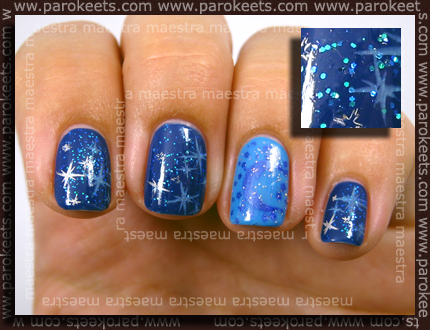 Za osnovo sem uporabila OPIjeva No Room For The Blues (krem svetlo moder) in Dating A Royal (krem temnejše moder). Čez podlago sem "poštempljala" z vzorcem iz Konad plošče m14 (zvezdice) in Fauxnad plošče B22 (luna in zvezdice). Zvezdice čez temno podlago sem dvojno odtisnila. Najprej z Avonovim kovinskim lakom Silver Foil, nato pa še s Konadovim posebnim lakom v odtenku Pastel Blue. Čez vse to sem nanesla še bleščičast nadlak. In sicer, čez temno podlago sem nanesla eno plast Constance Carroll Glitzy – Aqua Sparkle (prosojna osnova in turkizne bleščice), čez svetlo podlago pa Bourjois – Pillettes Disco (prosojna roza osnova in holografske bleščice). Kombinacija je zelo luštna. Žal pa na fotografiji ni videti, kako lepo sodelujejo zvezdice in turkizne blešlice, ki izgledajo kot lesketajoče se mini zvezdice.
To je moj današnji KOTD. Navdih je bil včerajšnji zaspani dan, ko sem si želela več ali manj samo spanja.
Prijeten dan vam želim!