ELF ima v ponudbi nekaj novih lakov. Meni niso pretirano zanimivi odtenki, sem pa naročila dva laka za mami, ki ima rada svetlejše barve.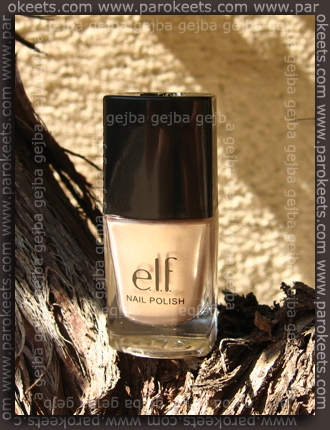 ELF – Moonlight je zlato bežkast odtenek, ki se niti meni ne zdi napačen. Ena plast ni popolnoma prekrivna, tako da se konice še kar vidijo. Druga plast je skoraj polno prekrivna, vendar potrebujemo tri plasti, če želimo doseči popolno prekrivnost.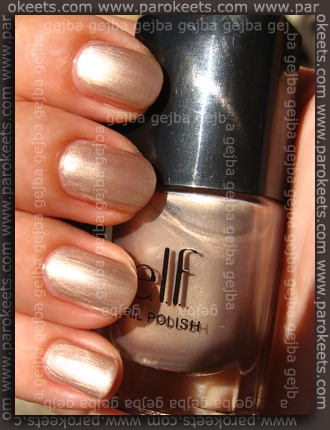 Na soncu da zelo fin šimer laku lepo šampanjec barvo. Ker ima odtenek frost/kovinski finiš, se na žalost poznajo proge. Drugih problemov z nanašanjem nisem imela.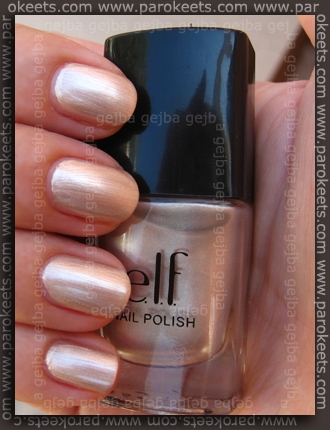 V senci je lak manj tople barve in pod določeno osvetlitvijo dobi celo srebrnkasto/siv podton.
Če primerjam Moonlight z Essence Love Of My Life lakom iz Essence Made With Love kolekcije, je slednji bolj zlat in ima večji šimer. Oba sem sprobala s Konadom. Odtis z Essence lakom se mi zdi bolj viden, delujeta pa oba.
Za lak sem odštela v ELF spletni trgovini okoli 1,7 EUR + poštnina. Steklenička vsebuje 10 ml laka.