Nihrida me je presenetila s "7 choses tagom". Pravila pravijo, da moram narediti fotografijo sedmih naključnih reči v barvi, ki jo je izbrala Nihrida. Le katero barvo je izbrala? Vsak, ki spremlja Nihridin super blog, si lahko misli, da je izbrala vijolično. :D Nič lažjega… pojdi z mano… Aja, to je bilo v risanki… No, to pa je moja fotka…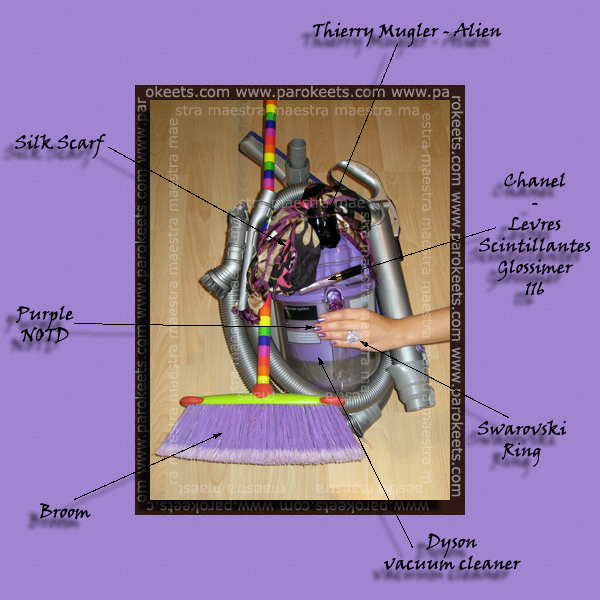 Za zimske dni mi je všeč močen in nenavaden vonj parfuma Alien. Obožujem temno vijolično stekleničko, ki spominja na vesoljčka.
Mami mi je kupila ta čudovit svileni šal, ki se krasno ujema z mojim prehodnim plaščem.
Na fotografiji je prikazan moj edini "lip gloss" znamke Chanel. Barva je lepa svetlo vijolična z veliko majhnega šimra. Zelo mi je všeč, a je vseeno predrag.
Moja današnja manikura je vijolična. Več o njej v drugem prispevku.
Prstan s Swarovski kamenčki je moje delo. Boljša fotografija in več o njem v drugem prispevku.
Kdor ne čisti rad, mora imeti vsaj lepe pripomočke za čiščenje. Ja, Fata z lepim sesalcem in metlo je veliko bolj učinkovita. :D
Sesalec znamke Dyson… No, o njem ne bom pisala v enem od prihodnjih prispevkov.  :D Ampak je pa vijoličen!  In je odličen sesalec.
Da imam resnično rada vijolično, dokazuje še vijolična metla.
Tako, to je 7 mojih naključnih vijoličnih reči.
Zdaj pa je moja naloga, da "taggam" 7 ljudi in nato izberem barvo.
Moj izbor:
Beauty Judy
Polished Beauty Blog
Moja barva za vas je oranžna!