V Mullerju na Čopovi sta že na voljo tako Moonlight kot Secrets Of The Past kolekciji. Danes imam za vas pripravljene swatche lakov iz Moonlight kolekcije, ki je bolj kot ne novoletno obarvana – bleščice all the way.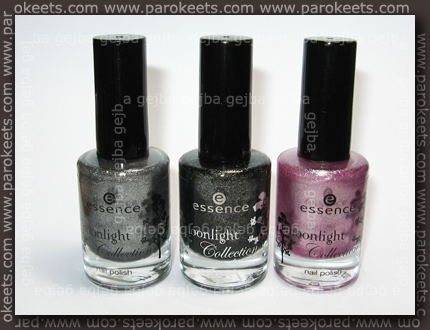 Ker je zimsko sonce že precej nizko na nebu, so fotografije na soncu preveč toplih barv in ne ravno najbolj ostre. Dodala sem jih le za prikazat šimra.
Live Forever je svetlo siv lak, ki vsebuje ogromno šimra, ki že meji na bleščice. Vsi odtenki imajo podoben večbarvni šimer, ki mi začuda ni povzročal prevelikih preglavic pri odstranjevanju. Nanos je neproblematičen, za popolno prekrivanje bi potrebovala tri plasti, a sem se ustavila pri dveh, ker mi je primanjkovalo časa. Na prstanec sem dodala še eno plast Essie Matte About You. Barva je realna na drugi sliki.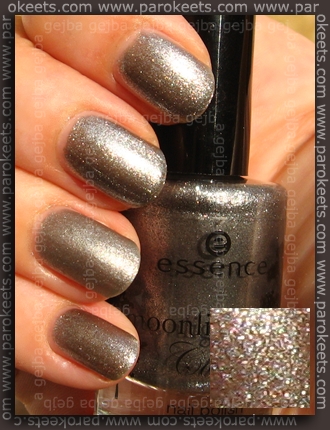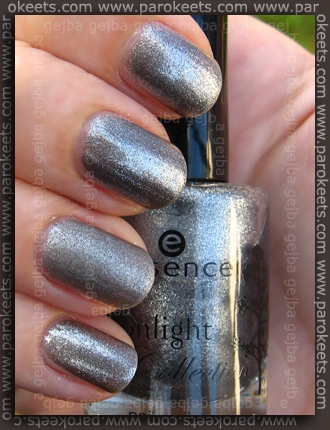 Into The Night ima že skoraj črno osnovo in ogromno šimra. Kombinacija ustvari temno siv bleščičast lak. Nanos je bil kar težaven, ker je konsistenca precej "lepljiva". Šimer (že glitter) je večji kot pri ostalima dvema odtenkoma. Nanesla sem dve plasti – brez nadlaka.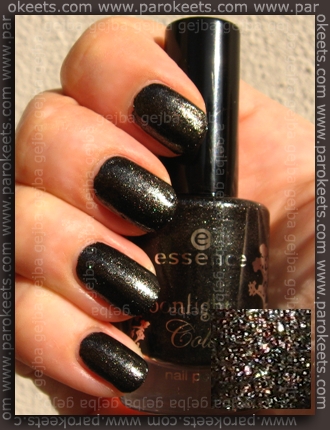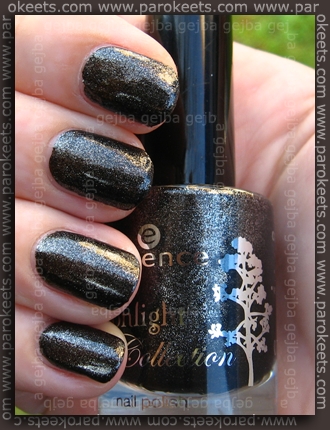 Moj najljubši odtenek v Moonlight kolekciji je Sparkling Drama. V svetlo roza bazi se šimer še najbolj porazgubi, pa tudi končni šimer efekt je precej bolj neopazen.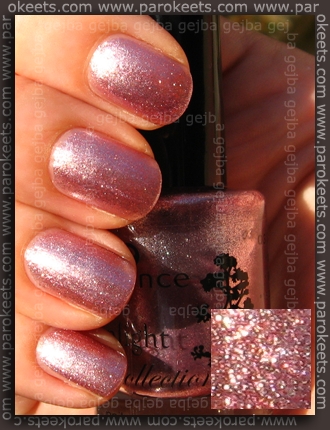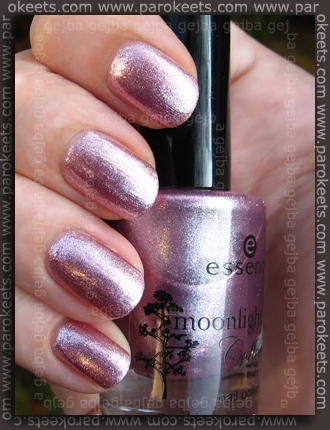 Laki so zapakirani v 10ml stekleničkah. Cena je celo malo nižja – 1,69 EUR za lak.