Nina z ARS foruma mi je za rojstni dan podarila vse štiri lake iz Secrets Of The Past kolekcije. Hvala, Nina.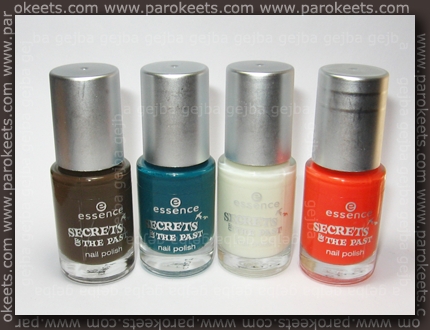 Vsi štirje laki v kolekciji so krem, zato me čudi poimenovanje najsvetlejšega odtenka – Glittering Daylight. Glede na ime bi pričakovala lak s šimrom.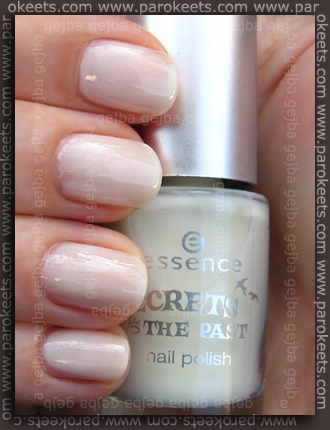 Kot je to ponavadi značilno za bele lake, se tudi ta neenakomerno nanaša. Na fotografiji sta dve plasti, a tretja ne bi bila čisto nič odveč. Gre pa za hecno umazano belo barvo. Podton me namreč malo spominja na lake, ki se svetijo v temi (verjetno Noč čarovnic vpliva na mojo domišljijo ). Na žalost se podtona ni dalo ujeti v fotoaparat.
Flowerfields sem primerjala z Juicy Orange iz Show Your Feet linije (sredinec). Flowerfields je bolj zamolkla oranžna, medtem ko potegne Juicy Orange bolj na rdečo. Tudi pri tem odtenku sem uporabila dva sloja.

Moj favorit iz te kolekcije je Meet You In Budapest. Čudovita petrolej barva, ki vleče malo bolj na modro kot na zeleno. Je tudi edini lak iz te kolekcije s katerim se da narediti res lepo viden odtis z nail art šablonami. Nanos se mi ni zdel ravno enostaven, vendar pa je bil še najbolj neproblematičen glede na ostale lake v tej kolekciji.  Meet You In Budapest je namreč kar gost lak, tako da sem potrebovala malo prakse preden sem ga ukrotila.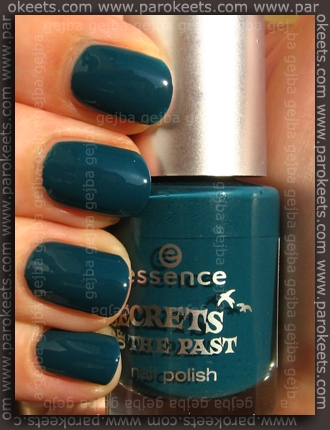 Kolekcijo zaključuje Matryoshka Doll – temno rjav odtenek, ki za razliko od In Love odtenka, povleče na rumeno. Daleč od tega, da bi bil grd odtenek, vendar mi je rdečkast podton In Love odtenka bolj pri srcu. Na hitro sem ga preizkusila s Konadom – odtis je sicer uspel, vendar je slabše viden v primerjavi z Meet You In Budapest lakom.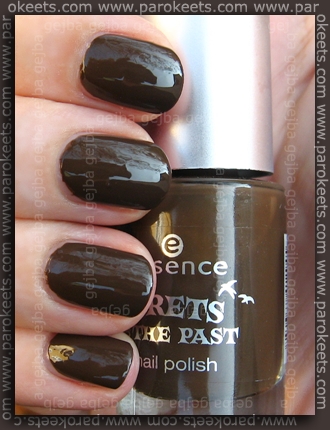 Cena za lak je 1,75 EUR v Mullerju.
Kateri odtenek je osvojil vaše srce?