Z Maestro sva tokrat testirali CND krem lak Raisin In The Sun ter Copper Shimmer effect.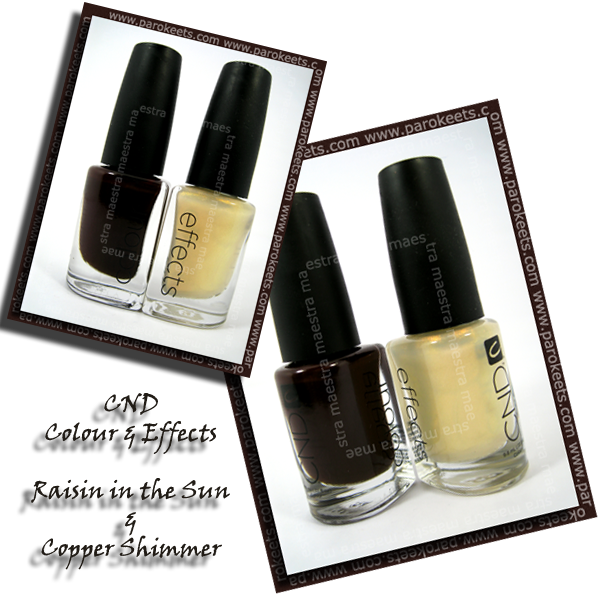 Mislim, da najprej nobena od naju ni bila nekaj hudo navdušena nad "novo" CND pogruntavščino, kjer so dali na voljo krem baze ter kopico prosojnih nadlakov z bleščicami, šimrom ali pa prelivanji. Meni osebno se to ni zdelo nič posebnega, tako da nisem kupila nobenega novega laka v CND kolekciji. Levji delež za to verjetno leži v slabih izkušnjah s počasnim sušenjem "starih" CND lakov.
Ko pa sva prejšnji mesec z Maestro zavili na NailSpa manikurni otoček v Supernovi na Rudniku v Ljubljani, se mi je odprl nov svet. Kot dva otročka sva se igrali z različnimi kombinacijami baz in efektov.
Kot že rečeno sta z nama sta odšla Colour Raisin In The Sun ter Effect – Copper Shimmer, ki nama ju je lastnica otočka prijazno podarila.
Najprej sem ju dobila v roke jaz. :D
Že krem baza me je čisto navdušila. Čopič je očitno narejen čisto po moji meri, ker se ne spomnim, kdaj je lak tako lepo drsel po nohtu in so krivine nastajale kar same od sebe. Najprej sem mislila, da je Raisin In The Sun "le" rjav lak, vendar je rdečkast podton lepo viden v močnejši svetlobi.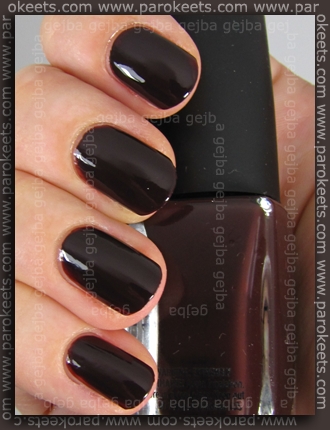 Sledil je nanos Copper Shimmer efekta z razmesarjeno kuhinjsko gobico.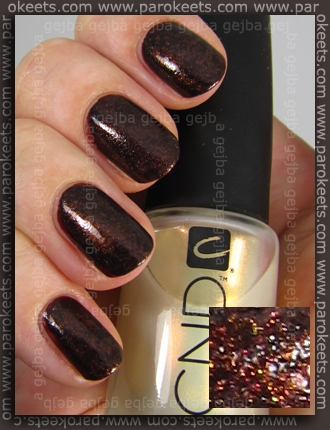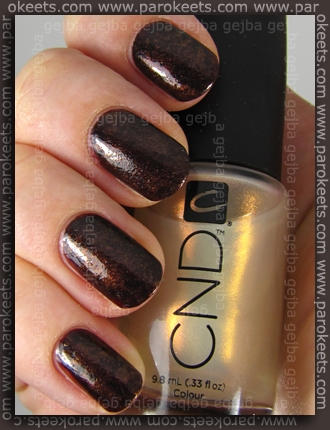 Načrtovala sem sicer še Konad čez sponge, vendar mi je bila manikura tako všeč, da sem jo pustila tako kot je.
Efekti so proti mojim pričakovanjem mešanica različnih šimrov, bleščic ter prelivajočih se sljud, tako da dajo laku neverjetno globino. Mislim, da sem uradno zasvojena – eden efekt se je že pridružil moji zbirki, drugi pa je na poti.
Je kar varno reči, da lahko z moje strani pričakujete še kar nekaj manikur in primerjav efektkov čez različne baze.
Svojo "kapljico" dodaja še Maestra …
Z zgoraj napisanim se popolnoma strinjam. Efekti me sprva niso ganili, ker dejansko ne gre za čisto nič revolucionarnega. "Layering" nam je vsem že dobro poznan. CND pa so to idejo pač izkoristili in na tak način ustvarili novo linijo. Še zmeraj trdim, da ne gre za nič revolucionarnega, ampak delo so pri CND izredno dobro opravili, saj so efekti res dobro premišljeni in z malo kreativnosti ali kombiniranja lahko dosežemo resnično čudovite preobrazbe. Gejba vam je svojo preobrazbo že pokazala, na vrsti je še moja …
… najprej sam Raisin in the Sun …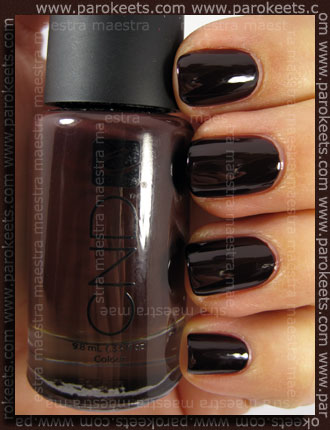 … dodatek efekta Copper Shimmer …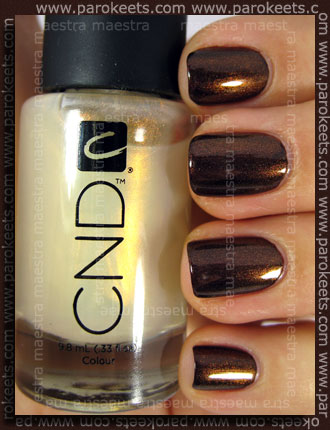 … in še nekaj različnih zornih kotov …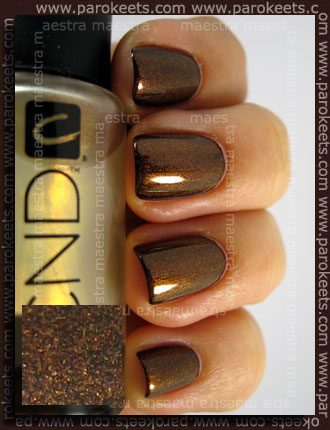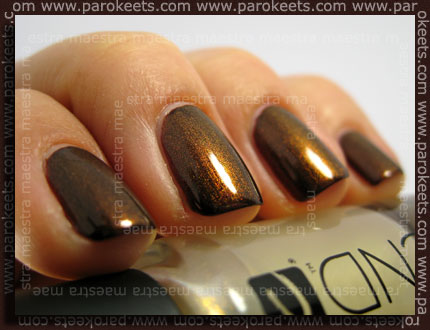 … za konec pa še Konad z vzorčkom iz IP H22 in lakom Raisin in the Sun …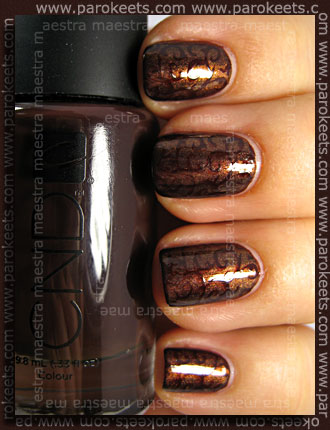 Kako se vam zdita preobrazbi?
Giveaway je ZAKLJUČEN.