Prepričana sem, da že vsi veste, da ima Catrice popolnoma prenovljeno linijo lakov za nohte. Nova linija se imenuje Ultimate Nail Lacquer in vsebuje kar nekaj modnih odtenkov, med drugim tudi rjavosive ("taupe") in mint odtenke.
Danes vam bom pokazala primerjavo med dvema Catrice rjavosivima odtenkoma in dvema verjetno najbolj opevanima "taupe" odtenkoma.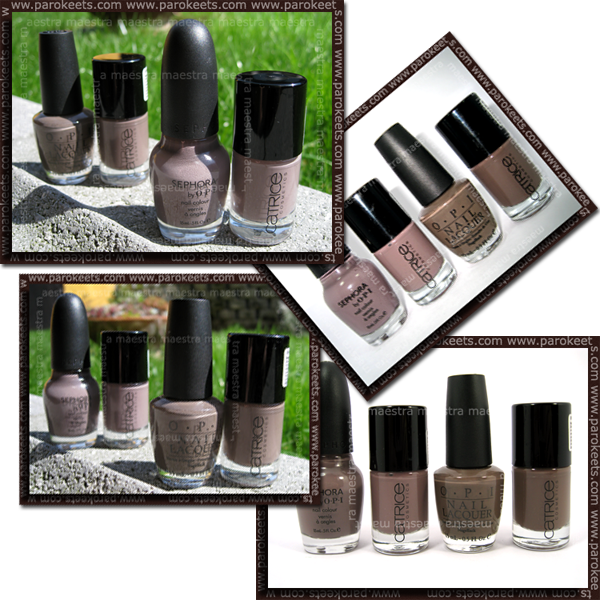 Sephora by OPI – Metro Chic, Catrice – From Dusk To Dawn, OPI – You Don't Know Jacques, Catrice – Lost In Mud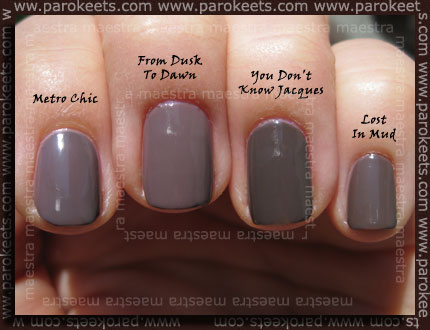 Na soncu.
Kot vidite, tukaj ni dvojčkov, so pa bližnji sorodniki.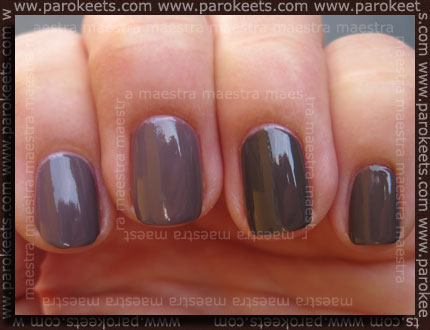 V senci.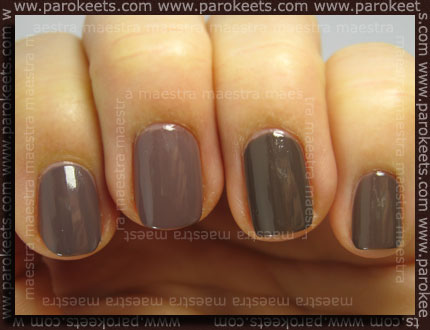 Pod umetno osvetlitvijo.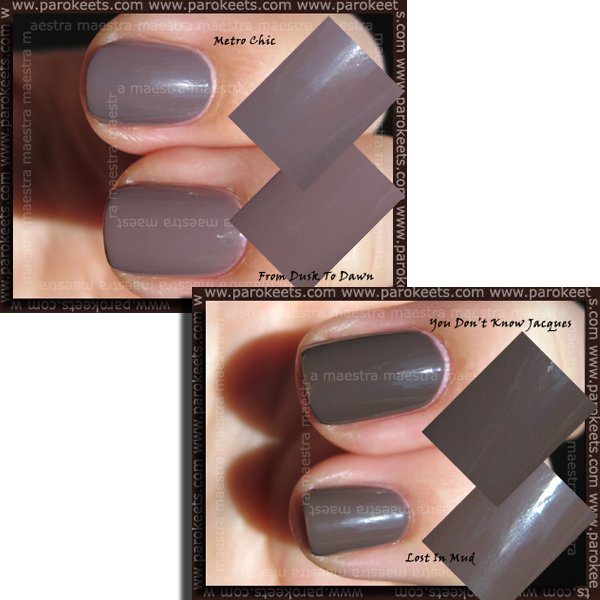 Metro Chic in From Dusk To Dawn sta si zelo podobna, vendar nista identična. Metro Chic je malenkost bolj siv, medtem ko je From Dusk To Dawn bolj na rjavi strani.
Lost In Mud je malenkost svetlejši od You Don't Know Jacques in morda malenkost bolj siv, vendar ne veliko.
Linija Catrice Ultimate Nail Lacquer je resnično posrečena. Vsebuje kar nekaj čudovitih odtenkov. Čopič je sploščen, vendar ni širok, kar je super. Nanos je neproblematičen. Konsistenca je malenkost gostejša, vendar ne predstavlja težav. Vsaj meni jih ni. Vsi zgoraj opisani odtenki so bili naneseni v dveh plasteh.
Cena je ugodna, 2,5€ za 10ml. Če jih lahko dobite, ne čakajte … bežite po njih! :D