Pokazala sem vam že čisto nor paket, ki sem ga danes dobila od Thriszhe. Lahko ste videli, da se je v njem skrivalo ogromno reči, niste pa videli, kaj točno sem dobila. To vam bom pokazala v tem prispevku. Ste pripravljeni na tono fotografij?
Najprej fotografija, ki sem vam jo že pokazala. Samo toliko, da vas spomnim, koliko reči se je skrivalo v paketu.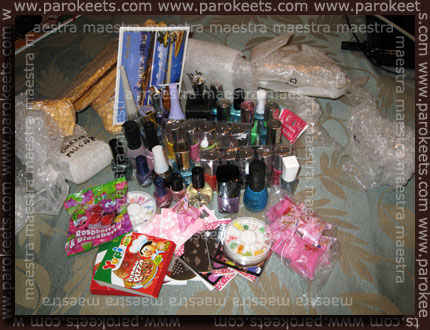 In še pogled od blizu …
Dva Nubar laka: Hot Blue in Twilight Kiss.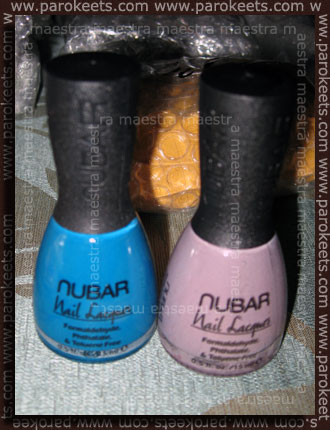 Claire's petorček.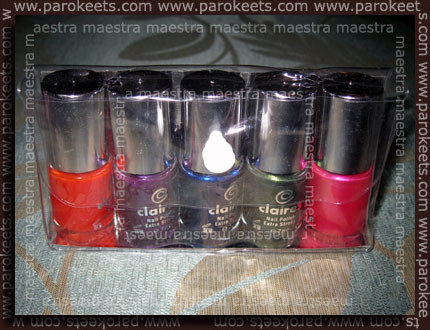 In še en Claire's petorček, tri Konad ploščice in tri fake Konad ploščice.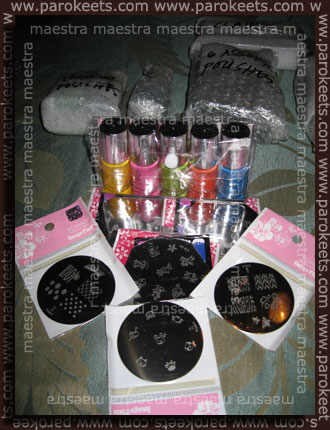 Ena od fake Konad ploščic je polna Mickey Mouse motivov.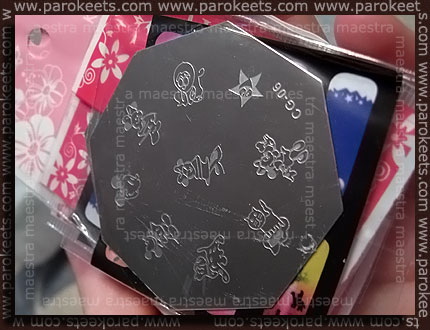 Končno imam tudi Konad nadlak. Pa da vidimo, kako se bo obnesel čez Konad posebne lake.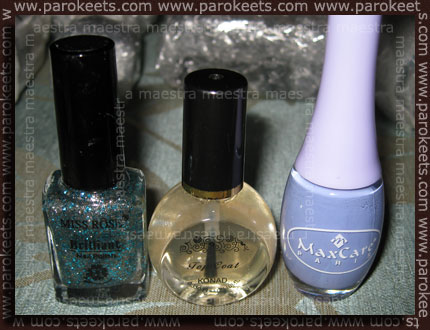 Bleščičast lak, ki ga vidite zgoraj, je čudovit. Vsebuje majhne srebrne bleščice in večje modre bleščice. Tudi lak na desni je izredno lep.
Poglejte, kako lepe stekleničke! Ali morda vidim srebrn holo lak?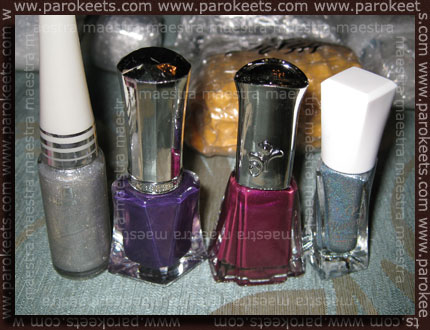 In še čisto prava modra, zelena in turkizna invazija.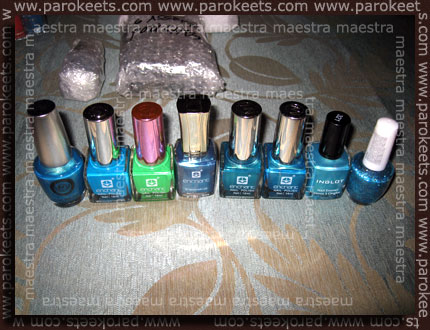 Dobila sem tudi svoj prvi Inglot lak. Ime odtenka je 321. Kmalu vam ga bom pokazala.
Sledi nekaj raznoraznih lakov. V sredini je čisto hud krem vijoličen lak Make Up Station – 45. Odtenek izgleda super z vijoličnim bleščičastim lakom v mini steklenički, ki jo lahko vidite levo od zgoraj omenjenega krem vijoličnega odtenka.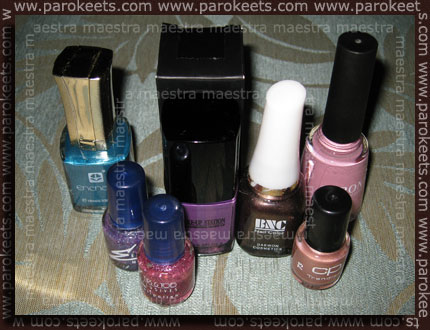 Skoraj smo že pri koncu. Ostaja le še ena zadeva, ki vam jo želim pokazati. Poleg vseh lakov za nohte, sta se v paketu znašli tudi dve okrogli posodici polni fimo okraskov za nohte. V eni posodici je bilo fimo sadje. To posodico sem pozabila fotografirati. Za vas pa imam drugo posodico, v kateri so bile neverjetno luštne fimo rožice.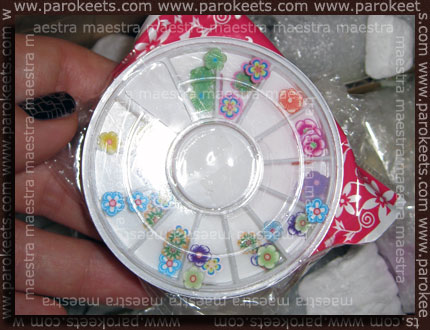 Navdišena sem! Komaj čakam, da bom lahko vse stvari preizkusila!
Še enkrat …
HVALA, THRISZHA!