Danes imam nekaj za ljubiteljice vampy odtenkov.
Najtemnejši lak v novi Catrice Ultimate liniji je Back To Black – črn lak s prevladujočim modrikasto-sivim šimrom. Na spodnji fotografiji lahko vidite kakšno vreme imamo zadnje čase v Ljubljani – dež, dež, dež, oblačno. Izkoristila sem enega izmed redkih sončnih obdobij … ki pa je prišlo skupaj z dežjem, tako da so na steklenički lepo vidne dežne kapljice. :D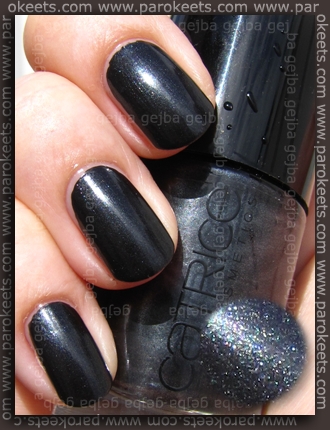 Barva mi je sama po sebi zelo všeč, malo me moti le čuden finiš. Ampak nič takega kar ne bi mogla popraviti plast nadlaka. Na vseh fotografijah sem uporabila dve plasti Back To Black laka čez podlak.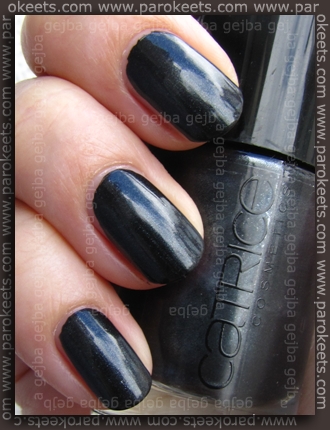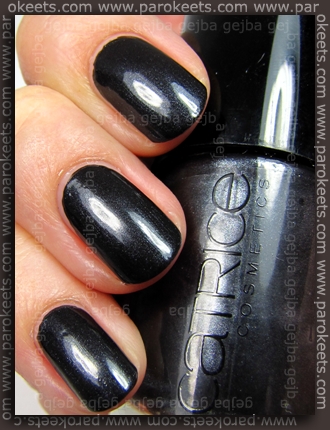 Naredila sem tudi konadikuro čez Back To Black, vendar je narejena za posebno priložnost, tako da vam jo bom pokazala v enem izmed prihodnjih postov.
Dostikrat me vprašate kakšni se mi zdijo Catrice laki v primerjavi z Essence laki. Meni osebno so veliko boljši. Zakaj?
Imajo zame popoln čopič;
večina lakov, ki sem jih preizkusila ima prekrasno formulo;
obstojnost je pri meni zavidljiva (v kombinaciji s podlakom in nadlakom, ki ju trenutno uporabljam);
barve so izredno premišljene …
Pri meni so na seznamu priljubljenosti tik za mojo najljubšo znamko – China Glaze. Essence in p2 prehitijo predvsem zaradi fantastičnega čopiča.