Joy – 246 je limonasto zelene barve. Ko sem ga kupila, nisem bila prepričana, ali mi bo všeč. Barva mi je bila sicer všeč, a že v steklenički sem videla, da je bolj prosojen in ima frost finiš. Dve reči, ki jih resnično ne maram pri lakih. Vseeno sem mu dala priložnost, da se izkaže. In moram priznati, da mu je kar uspelo. Na nohtih mi je bil všeč predvsem zato, ker naravnost žari. Tako zelo žari, da me tudi vidne konice niso motile. Vsekakor super barva za poletne dni! Kakor koli, tukaj je in po dveh plasteh so konice še zmeraj vidne.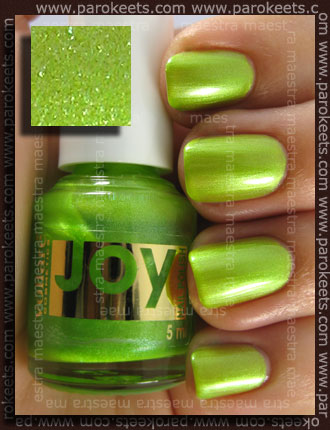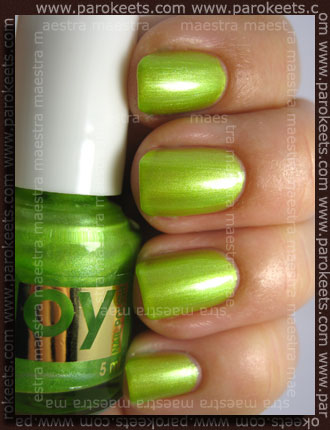 Naslednji je na vrsti "make up", ki se mi zdi, da je kar posrečen. Enostaven, a vseeno ni dolgočasen. Uporabila sem The She Space in Sweetscents mineralna senčila.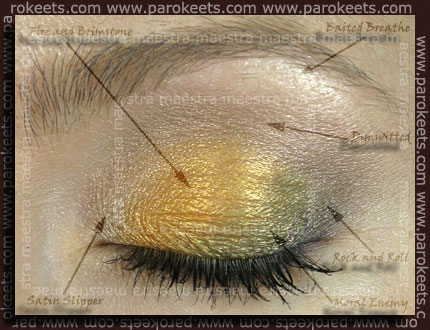 Fire and Brimstone je v tem trenutku verjetno moje najljubše senčilo za oči. Vsakič ko ga imam na očeh, mi nekdo pohvali make up. Zagotovo je krivo senčilo …
Za konec pa imam za vas fotografijo pričeske, ki sem jo z velikim veseljem nosila kakšen mesec nazaj. Če se ne motim, vam svojih las še nisem pokazala. No, saj niso čisto nič posebnega. Lasje pač. :D Kakor koli … Kakšen mesec nazaj sem po (pre)dolgem času šla na striženje konic. Vedno si za konec privoščim še styling. Tokrat sem "dobila" čudovite kodre. Normalno imam sicer valovite lase, ne pa pravih lepih kodrov. Nimam kaj več dodati k svojim lasem. Edino morda to, da sem kar ponosna nase, ker mi je ponovno uspelo, da imam dolge lase. To je to. Tukaj so.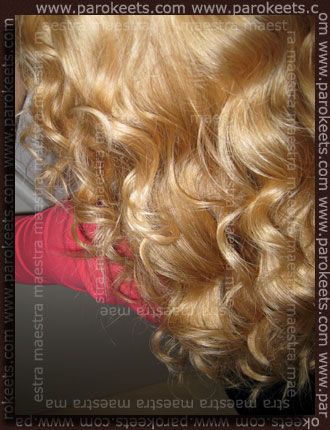 Temu lahko verjetno rečem, da je bila bonus fotka …
Aja, čeprav k frizerju hodim res poredko, mi je frizerka rekla, da zelo lepo skrbim za njih, saj nikoli ne bi uganila, da škarij niso videli že 5 ali 6 mesecev. Torej se vse maske, oljčki ipd. le obrestujejo.