Internetna trgovina licila.si, mi je v okviru njihove kampanje pošiljanja Barry M izdelkov v oceno slovenskim blogerkam, izbrala dva laka – Shocking Pink (Roza Šok) ter Pale Purple (Vijola Ledina).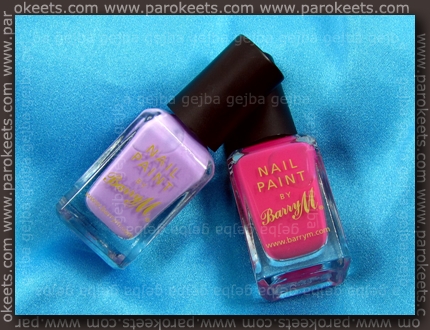 Najprej je prišel na vrsto Pale Purple. Svetlo vijoličen odtenek, ki ima soliden čopič ter ravno prav gosto formulo. Čez moj podlak se je odtenek dokaj hitro posušil v krem finish z visokim leskom. Pale Purple je pri meni prišel za odtenek temnejši kot je v steklenički ter dobil malo roza pridiha.  Na nekaterih fotografijah sem uspela ujeti to nežno roza noto, medtem ko jo je na drugih povozil modrikast podton.
Dva sloja sta zadostovala za popolno prekrivnost.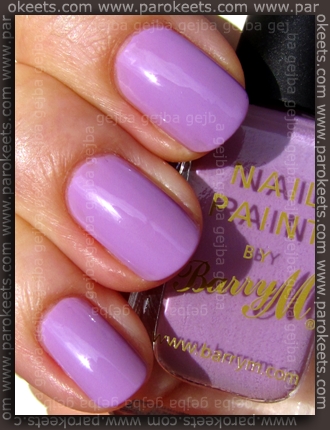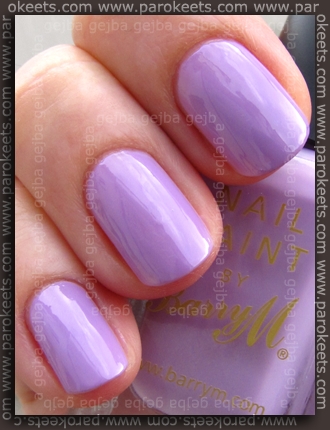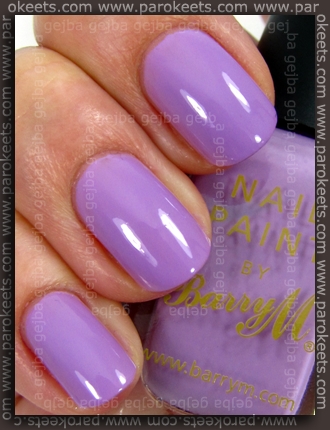 Shocking Pink je res udarna roza. Formula mi je še bolj všeč kot pri Pale Purple, ker je malo gostejša ter bolj pigmetirana. Z malo več truda, bi ena plast že zadostovala. Tudi ta odtenek ima krem finiš z visokim leskom.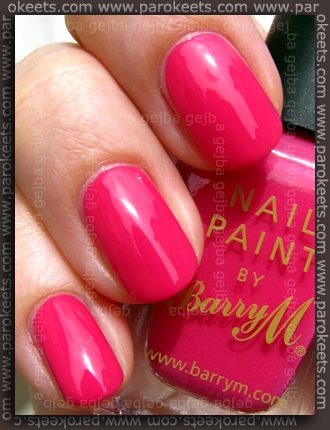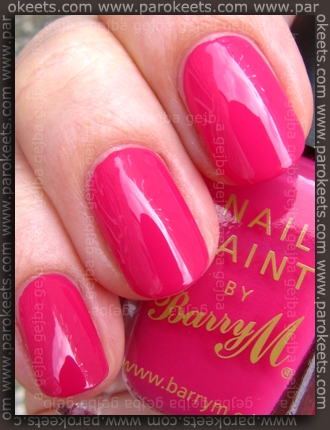 Oba odtenka sta primerna za konadiranje. Najprej sem konadirala Shocking Pink čez Pale Purple odtenek. Uporabila sem vzorec s fauxnad H1 šablone.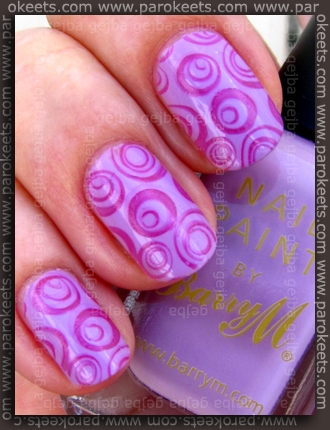 Potem sem pa obrnila zaporedje ter konadirala s Pale Purple čez Shocking Pink z istim vzorcem.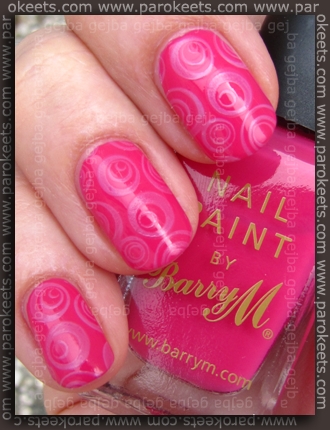 Barvni nista napačni, le da nista meni pisani na kožo. Vendar sem bila nad formulo navdušena, pa tudi cena 4,45 EUR za lak se mi zdi sprejemljiva, tako da si bom zagotovo naročila kakšen odtenek ali dva (… tri), ki mi bolj pihajo na dušo.
Osebno bi bila zelo vesela, če bi v spletni trgovini licila.si poleg slovenskih prevodov imen, dodali še angleška imena. Lakoholičarke iščemo swatche in mnenja o specifičnih odtenkih po celotnem svetovnem spletnem omrežju, kar pa je praktično nemogoče, če ne poznaš originalnega imena. Ali sem mogoče jaz edina, ki to pogreša?
Kateri odtenek je vam bolj pri srcu? Ali ste se bolj našle v kateri izmed konadikur?