Dolžna sem vam še swatche Essence Return To Paradise konad odtisov ter swatch My Little Orchid laka, sladkorček pa se je končal ob polnoči.
Za odtis na bel papir sem uporabila H21 all over vzorec ter rožico z Essence LE stampy ploščice.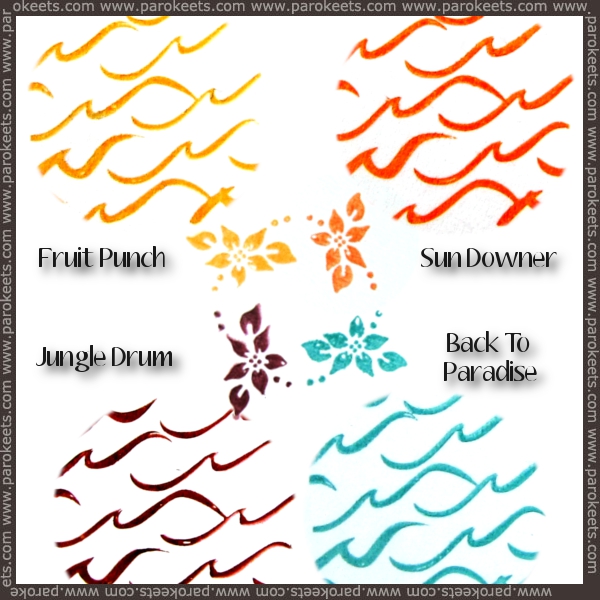 Barve Jungle Drum in Back To Paradise odtisa nista realni. Jungle Drum je manj rdeč, Back To Paradise pa skoraj čisto zelen in ne modro-zelen tako kot na fotografiji. Vendar sem vam želela pokazati odtis, tako da se z barvami nisem preveč ukvarjala.
Kaj se je zgodilo z odtisom My Little Orchid laka?  Prvi My Little Orchid lak, ki je bil namenjen meni, sem odstopila za Essence giveaway, tako da nisem mogla narediti ne odtisa ne swatcha. Drugi je pa šele na poti k meni.
Na srečo je Maestra priskočila na pomoč in naredila swatch njenega My Little Orchid laka.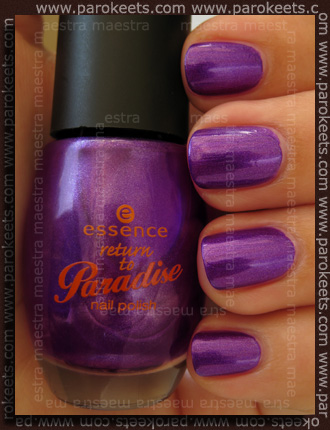 Komaj čakam, da dobim v roke tega lepotca.
Še informacija za vse naše bralke iz Slovenije glede Essence LE v DM, Douglas ter Beauty World drogerijah:
Surfer Babe bodo imele le Douglas drogerije, ki mislim, da jo trenutno tudi že prodajajo;
Return To Paradise pride v drogerije v začetku avgusta.
Upam, da boste vse dobile želene izdelke.