Prepričana sem, da do sedaj že vsi poznate Thriszho in prav tako že vsi veste, da je najbolj prijazna osebica lak univerzuma, da ima svoj blog z imenom FAB UR NAILS in da dela čudovite konadikure. Mah, celo knjigo lepih reči bi lahko napisala o Thriszhi. Med drugim tudi to, da sem prejšnji teden dobila od nje paket poln lepotcev. Poglejte!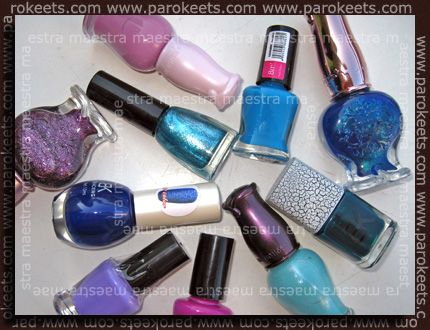 Hvala, Thriszha!
Naslednje naključno obdarovanje je od moje prijateljice, ki me je presenetila z Joy laki.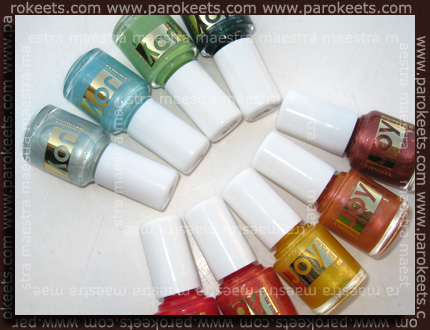 Morda vam naslednjič napišem zgodbico o teh Joy lakih. Naslednjič, ko bom imela tudi swatche za vas.
Sledita dva izmed mojih preteklih nakupov. Prvi je Basic Beauty nakup.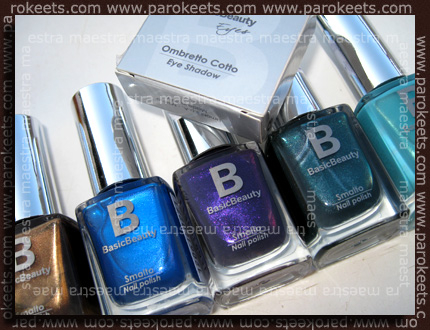 Preden je moj dragi zagledal reklamni plakat pred Limonijem, ki obljublja 80 različnih odtenkov, o znamki Basic Bauty nisem še nič slišala. Nujno sem morala priti zadevi do dna in potešiti svojo radovednost. Lepo urejena stojala z veliko različnimi odtenki senčil za oči, senčil za lička, rdečili za ustnice, laki za nohte … vse lično urejeno in z veliko zanimivi rečmi. Cene pa sprejemljive. Odločila sem se za štiri odtenke lakov za nohte in eno senčilo za oči. Na blagajni so me razveselili s še enim lakom gratis. Doma sem znamko malo pogooglala in ugotovila, da gre za novo znamko, ki je narejena prav za Limoni. To je zaenkrat vse, kar imam o znamki Basic Beauty napisati. Za več, boste morali še malo počakati.
In še moj zadnji nakup Make Up Factory – 123, ki je verjetno eden od novih odtenkov te znamke. Čeprav se mi njihovi laki zdijo predragi, me je ta odtenek, ki je tako poseben, prepričal. Morala sem ga imeti, ker česa podobnega še nimam, kar je prava redkost pri moji ogromni zbirki.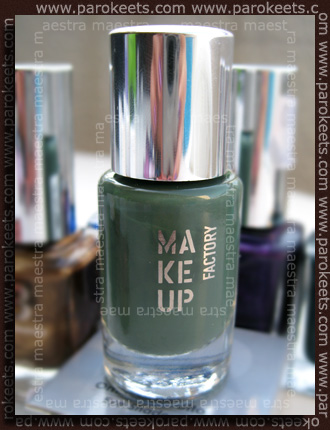 To je za danes vse … jutri bom poskušala predstaviti kakšen izdelek Basic Beauty.