Ta puzzle v obliki krogle v 60ih kosih, sem pred časom dobila od mojega dragega.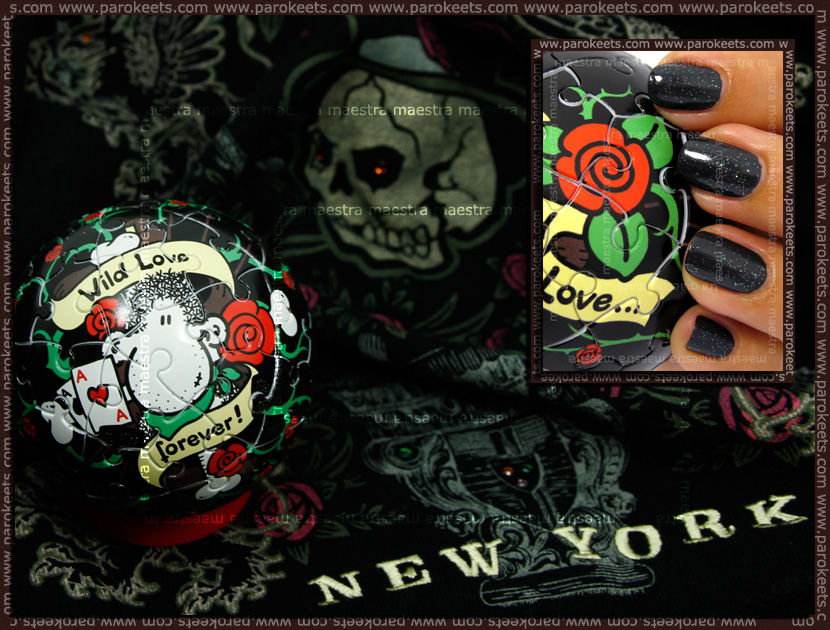 Ozadje je mikica s kapuco, ki sem jo lani kupila v NYC. Gre za New York Hard Rock Cafe "hoodie". Obožujem jo in jo veliko nosim!
Lak za nohte, ki ga nosim, je pravzaprav kombinacija dveh odtenkov. Začela sem z dvema plastema mojega najnovejšega "zmešančka" in eno plastjo Rival de Loop – Starlight. "Zmešanček" je narejen iz lakov Catrice – Back to Black in S-he bel. Nadela sem mu ime Opportunity, ker je zaradi ponujene priložnosti sploh nastal. Namreč, kupila sem Catrice – Back to Black, ki pa je imel zlomljen pokrovček in sem ga morala preliti. Prelila sem ga v "preveliko" stekleničko, v kateri je tako ostalo še nekaj prostora. Izkoristila sem priložnost in dodala še nekaj belega …. nastal je temno siv odtenek.