V zadnjem času sem kupila kar nekaj t.i. taupe odtenkov. Zakaj? Saj vem, da sem čisto zmešana, vendar sem na eni punci videla prekrasno taupe majčko s turkiznim vzorcem in sedaj želim na vsak način najti točno tako kombinacijo barv za konadikuro.
Obsedena sem – priznam. Normalen človek bi verjetno iskal identično majico. :D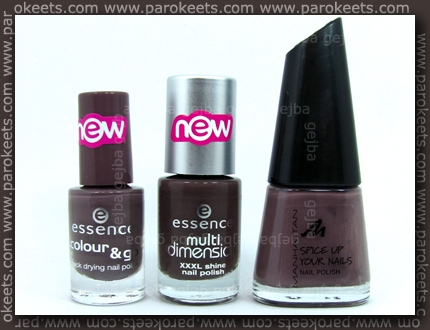 Torej – kako so si podobni Essence Walk Of Fame in Most Wanted ter Manhattan 96P (del Spice Up Your Nails LE):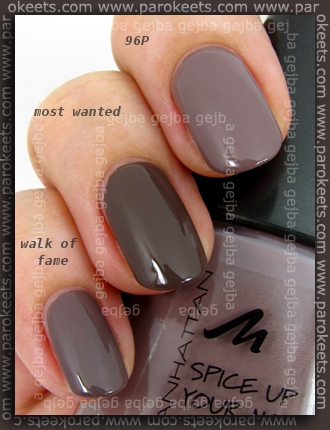 Ugotovila sem, da mi "čisti" taupe odtenki niso tako pri srcu kot svetlejše sivo-rjave mešanice z vijola podtonom.
Ob vseh mi je torej nepresenetljivo najbolj všeč Manhattan 96P. 96P je sicer neke vrste kameleonček – v hladni svetlobi vijola podtona ne morete zgrešiti, medtem ko je pri bolj rumeni osvetlitvi praktično neviden. Nanos 96P ter Walk Of Fame je bil enostaven, formuli in čopiča so mi enostavno pisani na kožo.
Most Wanted pa se mi ni prikupil. Ne po barvi, nanosu …
Lake sem pred odstranitvijo še matirala z Essence mat nadlakom.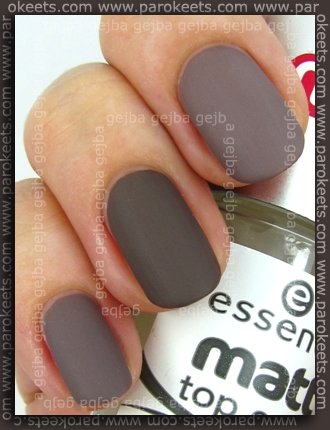 Je kateri izmed trojice pritegnil vašo pozornost?