Gabrini 214 je verjetno najbolj hecen holografski lak v moji zbirki. Že sama barva je malo čudna – nekje med olivno zeleno in zlato-zeleno, poleg tega pa ima še bolj šibek holo efekt. Če sem čisto natančna, je lak holografski samo takrat, ko to njemu paše.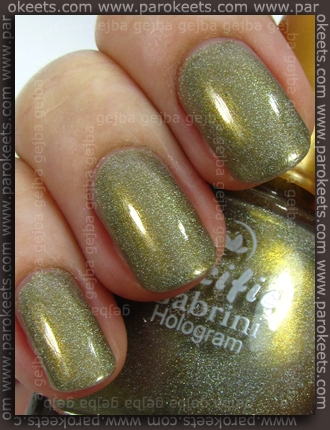 Na fotografiji se je holografski efekt čisto izgubil, tako da si pričarajte namesto srebrnih delčkov holo mavrico. :D
Ni najbolj prekriven, tako da sem potrebovala tri plasti in ker je v mini izvedbi (koliko ml ga je notri ne bi vedela, ker to ni navedeno), predvidevam da ga bom dokaj hitro porabila.