Včeraj je bil res zelo lušten dan. Popoldne sem preživela s svojimi čudovitimi Parokeetkami. Imele smo se čudovito!!! Punce, hvala za vse!
Zadnje čase ne nosim veliko make up-a. Samo dotik bronzerja in rdečila za lička (ta dva naredita čudeže!!!), maskaro in šminko ali lip gloss. To je vse. Včeraj pa sem vseeno želela nekaj barve tudi na vekah. Ne preveč in ne preveč živih barv. Prav tako nisem želela močnega make up-a. Nastal je čisto "simpl" oranžen look.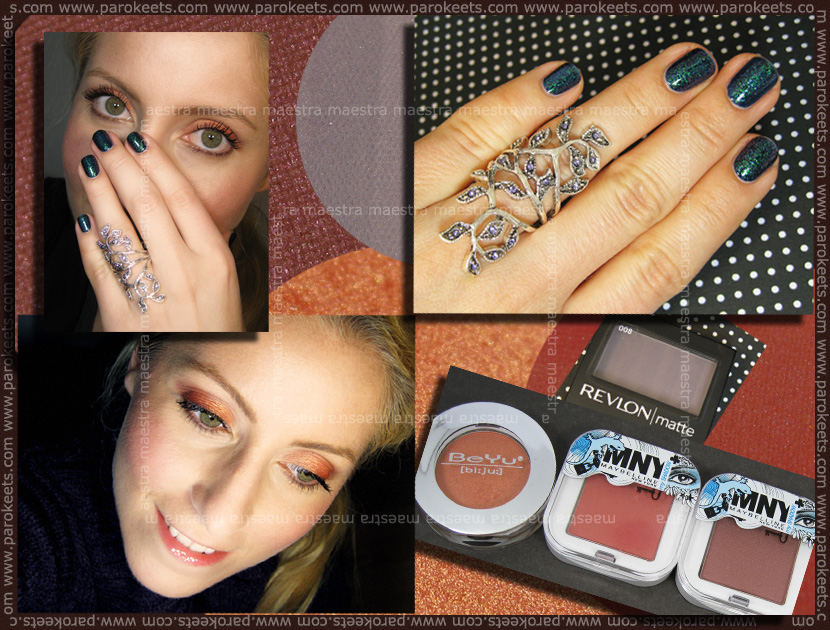 Oči
:
Rival de Loop – baza za senčila
MNY – 329, 333 senčili
BeYu – 100 senčilo
Revlon – 008 Aubergine mat senčilo
Clarins – 01 Colour Quartet For Eyes (zlato senčilo za osvetljevanje)
Maybelline – Colossal maskara
Lička
:
MaxFactor – Bronzing powder – Golden
Make Up Factory – Blusher No. 10 Roman Rose
Ustnice
CK – Sheer Plumping Lip Gloss – 206 Euphoria
Nohti
:
Ciate – 3am Girl (1 coat as a base)
Pro Nails – No. 199 (2 coats of glitter)
+ poceni prstan iz trgovine Bata. Prstan je znamke Six.