Na naši Facebook strani smo vas vprašale katerega izmed novih Essence ali Catrice lakcev bi si želele videti najprej. Če smo ga le kupile, vam ga bomo pokazale. Konkreten odgovor je bil le eden, tako da je današnji swatch Out Of My Mind odtenka namenjen Simoni.
Out Of My Mind je bil eden prvih odtenkov, ki je pritegnil mojo pozornost na prenovljenem Essence stojalu. Krasno prelivanje zelene in modre … seveda je odšel z menoj.
Nanos sam po sebi ni bil problematičen, vendar so vidne proge pri nanosu, kar mi ni ravno najbolj všeč. Drugače gre pa za lep duochrome odtenek, ki res asociira na Essence Choose Me! lak … le da je brez krpic.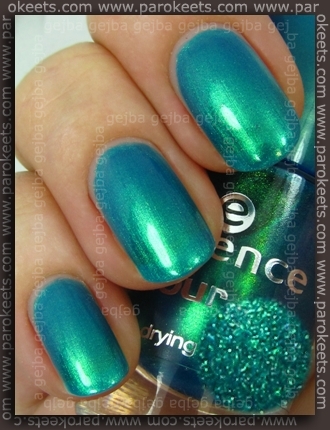 Barva se mi je zdela zelo luštna podlaga za Essence Crack Me! White odtenek, tako da sem nanesla eno plast belega "razpokanca" čez Out Of My Mind.
Na žalost me lak ni pretirano navdušil – še eden crackle lak pri katerem moram paziti, da je sloj res zelo tanek, če želim da lepo razpoka. In potem je seveda včasih pretanek, spet drugič predebel … pa še te bolj ali manj vzporedne razpoke. Barry M White Frost mi izgleda veliko bolj privlačno … Maestra, jaz bi ga na tvojem mestu zelo dobro skrila. :D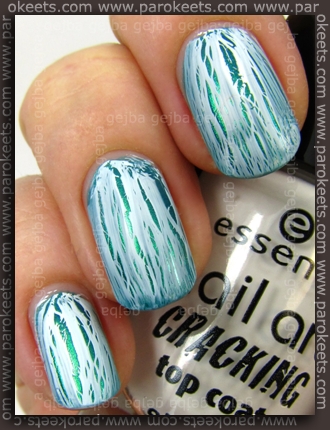 Cena: 1,49 EUR za Colour&Go (5ml) lakec ter 1,89 EUR za Cracking top coat (8ml).