Na hitro sem preletela seznam Catrice lakov, ki se jeseni poslavljajo s polic. Večino swatchev smo že naredile in si jih lahko ogledate v Catrice galeriji. Eden swatch pa je bil na čakanju v arhivu, tako da je verjetno res skrajni čas, da ga objavim.
Catrice Up In The Air (530) je krem lak z modro osnovo in rahlo sivkasto/vijola podtonom. Zelo lep lak s hladnim podtonom, ki lepo nanaša in potrebuje 2 plasti za popolno prekrivanje (na swatchu je dodana še plast nadlaka).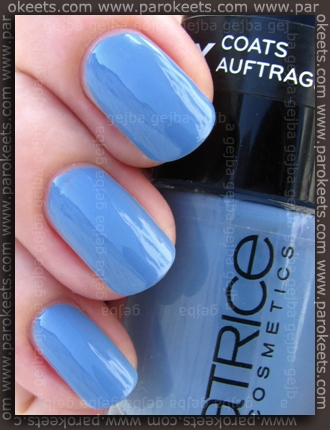 Imam sicer tudi odhajajoči Ultimate Nude 010 Dance Like A Prima Ballerina lak, vendar je to eden izmed lakov, ki jih imam najmanj rada (težko se nanaša, se tepe z mojim tonom kože), tako da verjetno ne bom nikoli naredila swatcha tega odtenka.