Obetajo se nam nove dobrote iz Alessandra. Poglejte kako lepo izgleda Born To be Wild kolekcija.
Divji vzorec leoparda a še vedno nežno in elegantno kot dama – to je današnja moderna ženska. Alessandro jesenski look: v elegantni beige, nežni pastelni pink barvi, barviti eksplozivno modri in koralno rdeči barvi. Look, ki vsebuje vse kar potrebujete za trendi videz!
Ena izmed stvari, ki mi je nabolj všeč v tej kolekciji, je široka barvna paleta. Vključili so 10 odtenkov v mini izvedbi (štirje odtenki so na voljo tudi v 10 ml stekleničkah), ki se raztezajo od zelenkasto-rjave, maline, temno rdeče do meni najljubše – teal modre.
Sweet Poison je definitivno moj favorit, čeprav bi si lahko izbrala polovico kolekcije hitreje jot izgovorite lak za nohte.
Ste opazile, da so miniji po novem pomanjšane verzije 10ml embalaže?
Alessandro Go Magic! Moon Manicure LE je nekaj popolnoma novega v "lakosferi". V kompletu dobite namreč bazni lak, šablone in nadlak lak za aktivacijo vzorca. Odvisno od tega katero šablono si izberete, dobite instantno "half moon" manikuro, krogce ali pa črte, ki so v drugačni barvi kot bazni lak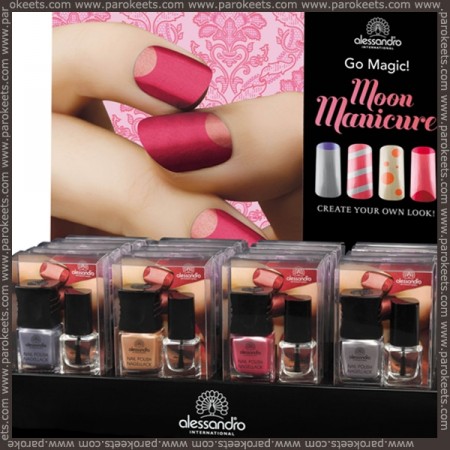 Na voljo so 4 barvne kombinacije: Gold-Orange, Red-Dark Red, Silver-Blue, Silver-Red.
Kateri izdelek izmed predstavljenih bi si izbrale, če bi si lahko privoščile samo eno zadevo?
*fotografije iz katerih sem naredila kolaže so last podjetja Alessandro