Ko sem v neki zakotni nemški drogeriji zagledala vse lake iz Catrice Out Of Space LE, sem bila čisto navdušena.  Čisto v vseh Mullerjih je bila kolekcija razprodana in če me prijateljica ne bi opozorila, da ima še ena bolj (meni) neznana drogerija prav tako Catrice, bi ostala brez temnih lepotcev.
Brez nadlaka bi komot shajala, ampak ostali trije laki so mi pisani na kožo – temni, modro-zeleni odtenki z zanimivim šimrom.  Holografski vzorček na pokrovčku je pa še dodatni plus.
Ne vem sicer v kakem sanjskem svetu živim zadnje čase, da nisem vedela, da ima Beam Me Scotty! suede (semiš) finish. Uporabila sem dve plasti, vendar bi ena že lahko zadoščala … če ste spretne z malo bolj "čigumijasto" formulo. Kot večina suede/mat finišev, se je tudi tale odtenek zelo hitro posušil. Gre pa za krasen temno modro-zelen odtenek.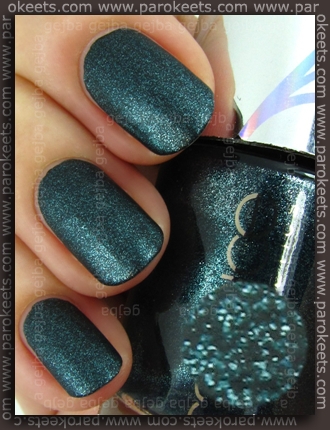 Houston's Favorite ima še malo bolj vlečljivo formulo kot Beam Me Scotty!, vendar je istočasno tudi malo bolj redka, tako da je bilo meni nanos lažji. Sem pa pri vseh Catrice Out Of Space lakih uporabila malo debelejše plasti kot bi jih sicer. Houston's Favorite je eden izmed tistih krasnih vijolično-modro-zelenih duochromov.  2 plasti + nadlak.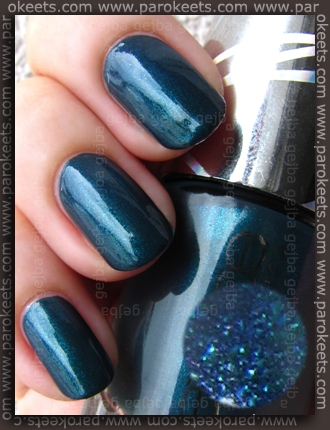 Tako Moonlight Express kot Houston's Favorite imate nek čuden moten/ubit finiš, ki mi ni bil preveč všeč. Tako da je pri teh odtenkih zame uporaba nadlaka skoraj obvezna. Moonlight Express je najtemnejši odtenek v zbirki s prekrasnim šimrom/bleščicami. Takoj, ko se prikaže prvi sonček, ga bom uporabila za manikuro.  2 plasti + nadlak.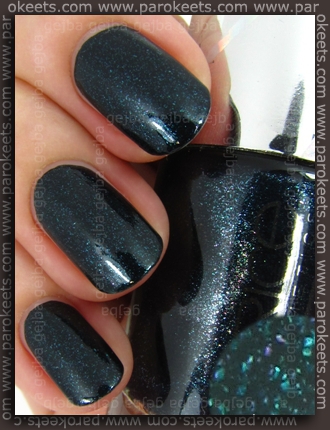 My Milky Way so pri Catrice označili kot nadlak, ki spremeni barvo … predvidevam, da je bilo mišljena barva baznega laka. Najprej sem ga uporabila kot "navaden" lak. 3 plasti + nadlak.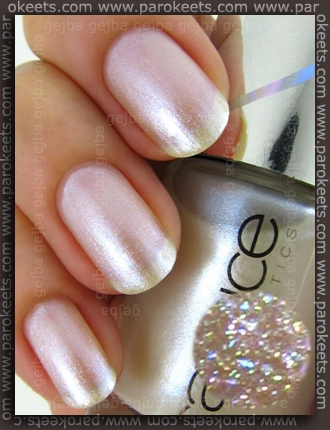 Sledila je primerjava treh temnejših odtenkov …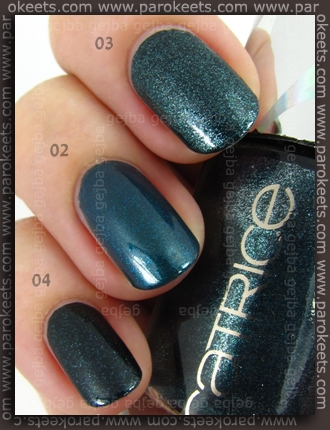 … čez katere sem nato nanesla eno plast My Milky Way nadlaka.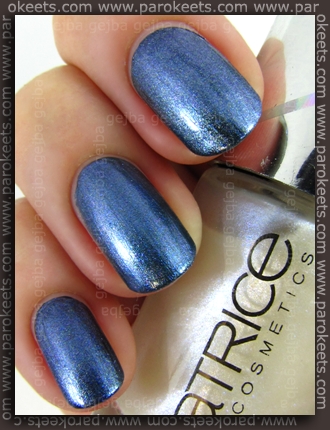 Ne morem reči, da me je očaral. Enostavno mu manjka tista iskrica, da bi bil nekaj posebnega.
Cena: 2,49 EUR za 9ml laka.
Je kateri odtenek iz Catrice Out Of Space LE vam pisan na kožo?