Danes bom izredno kratka, ker sem že fuuul utrujena. Tudi moja manikura za danes je na hitro narejena in izredno enostavna. Samo štemplanje in še to samo ena štampiljka na vsak noht. To je to. Simpl ko pasulj, kajne? :D A vseeno mi je všeč, kako je izpadlo.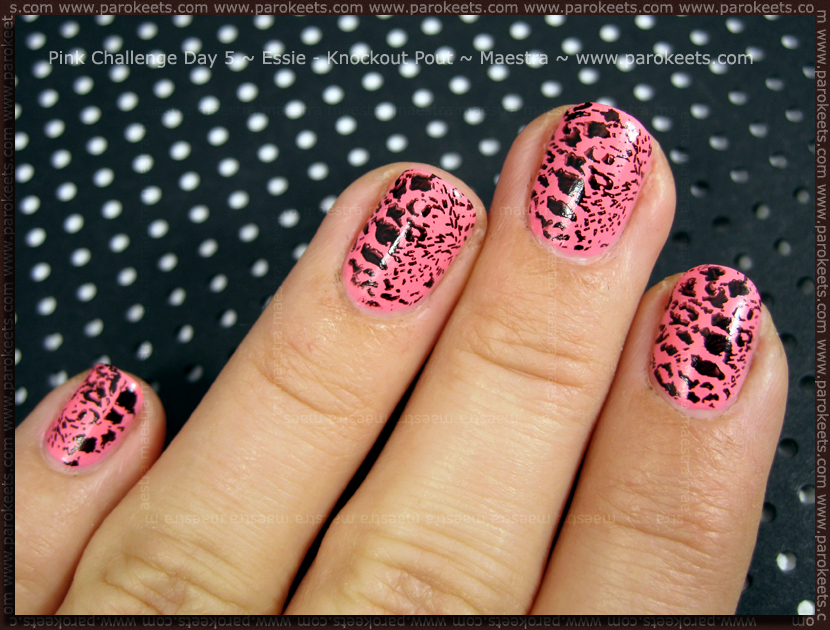 Za štemplanje sem uporabila XL plato D in Essence – Stamp Me black lak.
Če vas slučajno zanima, kaj sploh je ta Pink Challenge. To so pravila:
ves teden objavljanje fotografij manikure z izbranim lakom;
čez izbrani lak se sme slojiti, konadirati, risati po njem … ne sme se ga prekriti na tak način, da ne bi bil več viden (npr. slojenje črne čez lak je prepovedano).
Kako se vam zdi?
Za konec še en lep pozdravček prijetni mladi dami iz Desigual trgovine, ki mi je danes polepšala dan s prekrasnim komplimentom (beri: prepoznala me je in pohvalila blog). Mlada dama, če to bereš:
"Hvala!
Vem, da sem čudno odreagirala, ker tega nisem navajena (in še zadnje čase hodim po svetu kot en mesečnik), a res iz srca hvala.