Ko sem prvil videla I'm A Star, nov odtenek znamke Catrice, me je le-ta takoj spomnil na en drug lak iste znamke, ki je bil del omejene kolekcije z imenom Papagena. Lake iz omenjene kolekcije je Gejba predstavila TUKAJ. In I'm A Star me je takoj spomnil na odtenek z imenom Welcome To The Jungle.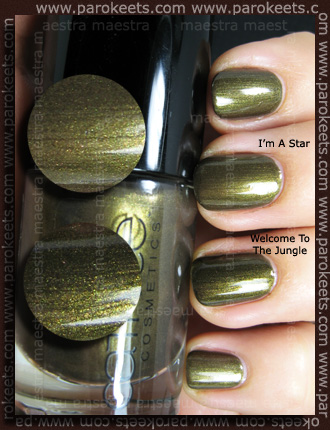 Iz fotografij zgoraj je razvidno, da odtenka nista identična dvojčka. Welcome To The Jungle je nekoliko temnejši. Pri nobenem ni bilo težav z nanašanjem. Oba sta mi zelo všeč. Če bi pa morala izbrati enega, bi zmagal Welcome To The Jungle.
Kateri pa je vaš favorit? I'm A Star ali Welcome To The Jungle?