Alessandro Go Magic! Crash Coat crack lak verjetno ne potrebuje zelo dolge predstavitve, kajti o njemu sem že nekajkrat pisala. Če povzamem, gre za mojega najljubšega črnega crackla (v kategoriji ogromnih razpok) odkar sem ga prvič kupila kot del Royal Crash seta.
V letu dni odkar imam Alesandro Crash Coat, sem kupila kar nekaj črnih cracklov, vendar se vedno vrnem k temu, ko imam slab dan in se želim pocrkljati. Problem je v tem, ker sem ga imela v 5ml steklenički, tako da sem ga kar "šparala".
Po novem pa je 10ml črni Alessandro Go Magic! Crash Coat del njihove redne linije.
Kolikor vidim, gre za podobno formulo kot je bila v mini setih. Lak zelo močno razpoka, ga je lažje nanesti zaradi večjega čopiča, se mi ne kruši, tako da lahko preskočim nadlak (mi je nekako bolj pri srcu črn mat crakle finiš). Pred uporabo ga je treba fajn pretresti (nekaj kar sem se naučila že pri Royal Crash cracklu ).
Crash Coat sem nanesla čez osem Alessandro lakov – od rumene do sivo-vijola.
Vse te mavričate barve so me spomnile na sonce, poletje in sadne sorbete, ki se prelivajo iz rumene do oranžne barve. Tako da sem naredila tudi manikuro v temu stilu.
Slojila sem Sunshine Reggae, Mojito Mint and Long Island Ice Tea (izgleda, da res pogrešam višje temperature ) ter zaključila z eno plastjo Alessandro Crash Coat crackla. Manikura ni ravno fotogenična, v živo je namreč izgledala veliko lepše. Omenila bi pa eno zadevo – če delate tak tip manikure in uporabite čez Crash Coat, potem raje počakajte kako minuto več, da se baza malo bolj posuši. Crash Coat je namreč zelo močan crackle in lahko rahlo povleče bazno barvo tja kjer je niste želeli.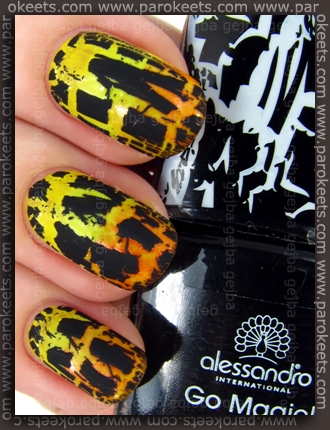 Cena: 9,95 EUR za 10ml. Vem – ni ravno poceni, vendar je to standardna cena za Alessandro lak.
Kako vam je všeč moja manikura? :D
*Izdelek sem dobila v oceno.