To soboto bi Sophie praznovala svoj 25ti rojstni dan. Če slučajno še ne poznate njene zgodbe in Sophie Lancaster fundacije, si lahko ogledate video v Maestrinem postu ali pa obiščete njihovo Facebook ali internetno stran. Gre za žalostno zgodbo, ki pa nosi kar nekaj močnih sporočil, na katere ne smemo pozabiti.
V čast njenega rojstnega dneva in v znak podpore Sophie Lancaster fundaciji, so se pri Illamasqui odločili, da bodo priredili natečaj v katerem bodo podelili 5 nagradnih paketov v katerih se skriva nekaj njihovih kultnih izdelkov: Medium Pencil Sophie, Pure Pigment Zeitgeist, lak za nohte Unnatural, Intense Lipgloss Repulse, umetne trepalnice št.21 and in S.O.P.H.I.E zapestnico.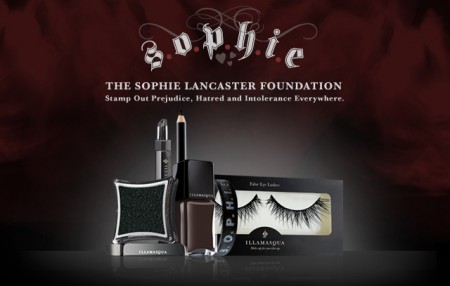 S.O.P.H.I.E natečaj se bo zaključil v soboto 27.11. ob polnoči (GMT).