Essence Re-Mix Your Style nadlaki so se v Mullerjih razprodali s svetlobno hitrostjo. Na srečo sem jih uspela dobiti v Avstriji.
Kupila sem 5 baznih lakov: Light My Fire, Maybe I'm Amazed, Show Me The Way, Stairway To Heaven (šimer), Someone Like You.
Light My Fire (rdeči) in Maybe I'm Amazed (vijola) odtenka sta bolj prosojna kot ostali laki v tej kolekciji, vendar pa na na nohtih dva malo debelejša sloja zadostujeta za popolno prekrivnost.
Vse štiri nadlake sem nanesla čez bazne lake v istem vrstnem redu kot so naneseni na prvi fotografiji.
Prvi je seveda prišel na vrsto Waking Up In Vegas oz. Dance … prekrasen lak s krpicami. Formula je ravno prav gosta in nabita z duochrome krpicami, ki so suspendirane v prozorni osnovi.
Feels So Good oz Love vsebuje ogromno roza šimra … vsaj tako sem najprej mislila. Potem pa sem ugotovila, da gre dejansko za duochrome efekt, ki pa ni tako pogosto viden.
Uganite kaj je novega – Essence je tokrat celo res postregel s holo lakcem in ne z duochromom s holo imenom. Just Can't Get Enough oz. Pop spada med lake s holo šimrom/bleščicami.
Za moj okus je formula preveč prekrivna – brez roza osnove bi bil lak veliko boljši. Ampak holo je holo, tako da mi je še vedno všeč. :D
Zadnji nadlak se imenuje We Will Rock You oz. Rock. Ko sem ga prvič zagledala, mi ni bilo najbolj jasno kaj naj z njim. Vendar se je izkazal tako uporabne kot ostali nadlaki iz Re-Mix Your Style TE. Če ga nanesemo čez katerega izmed ostalih nadlakov, jih ravno toliko priduši, da dobimo še vedno živahno, a bolj elegantno manikuro. Gre pa za zelo prosojen črn lak z drobnim šimrom.
Nekaj lakov oz. kombinacij mi je celo uspelo poswatchati. Prav neverjetno kako je tisti dan šlo vse narobe. Uspelo mi je namreč poškodovati čisto vsako manikuro. Na srečo so nekatere zdržale do fotografiranja, druge pa niso bile tako zanič, da vam jih ne bi mogla pokazati.
Light My Fire je verjetno očitna izbira za ljubiteljico rdečih lakov. Zelo lepa temnejpa rdeča s hladnejšim podtonom, ki jo bom v prihodnosti zagotovo še nosila. 2 plasti + nadlak.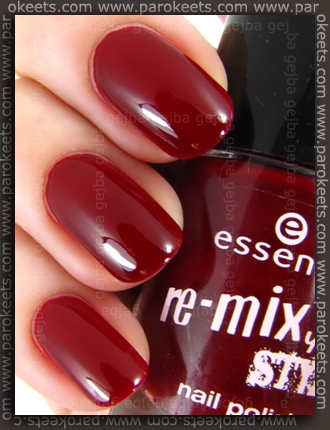 Maybe I'm Amazed je zelo lušten vijola odtenek. Skupaj z Light My Fire sta se malo težje nanašala kot preostali laki v kolekciji, vendar nič takega kar bi povzročalo resne težave. 2 plasti + nadlak.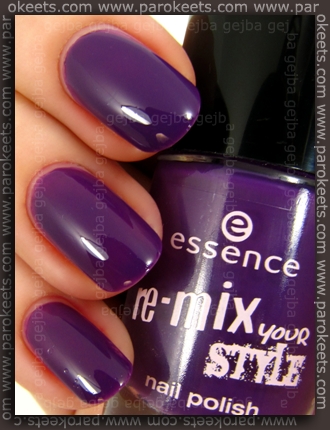 Ko pa dodate Maybe I'm Amazed eno plast Feels So Good … uau! Kombinacija je enkratna in se prav čudovito iskri.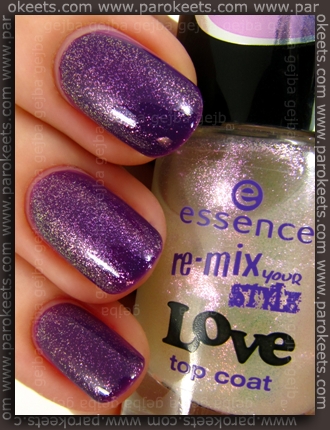 Show Me The Way je modro-zelen lak, ki se zelo lepo nanaša … a tudi obarva nohte. Na srečo je bilo zabarvanje le površinsko, tako da so aceton, vitamin C in pranje las opravila s to nadlogo. :D 2 plasti + nadlak.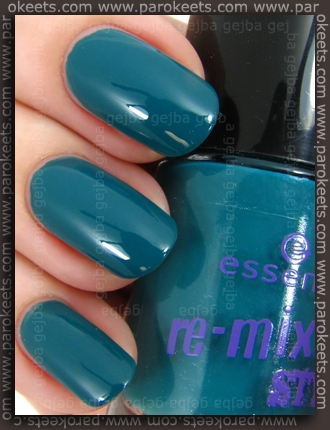 Čez Show Me The Way sem nanesla Waking Up In Vegas krpice, potem pa na mezincu dodala še eno plast We Will Rock You laka.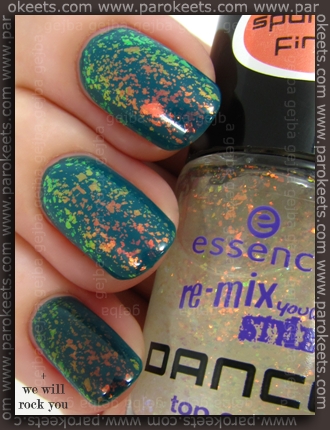 Cena: 1,89 EUR za 8ml.
Kako so vam všeč imena odtenkov?
Ker se na fotografijah bleščice ne vidijo prav izrazito, sem vam pripravila videoposnetek Essence Re-Mix Your Style lakov v akciji.
[youtube l5A79UenG9o 500 312]
In če sem že imela ekstra Waking Up In Vegas + Just Can't Get Enough, se mi je zdelo primerno, da organiziramo mini giveaway.
Pravila so takšna kot vedno. Več lahko preberete v postu Pravila – giveawayi na Parokeets blogu.
Edini obvezni pogoj za sodelovanje je, da nas spremljate z GFC vmesnikom (poleg vašega elektronskega naslova, da vas lahko kontaktiramo v primeru, da ste izžrebani).
Če želite dobiti dodatne vnoste (večja možnost za zmago), pa lahko twittate ali pa delite post na vašem blogu.
Giveaway se bo zaključil 13. novebra 2011 ob polnoči.
GIVEAWAY JE ZAKLJUČEN.