Tiste, ki spremljate moj YouTube kanal, ste že v haul videu spoznale moje nove Catrice lepotce iz redne linije.
Bi se lahko šla stavit, da je večina takoj vedela kateri odtenek bo prvi na vrsti. Catrice King Of Greens je ravno prav svetel in rumenkasto zelen, da mi je všeč. Če bi bil svetlejši in bolj rumen, bi ga verjetno sovražila. :D
V laku je vidno ogromno zelo fino mletega šimra, ki je večinoma zelene barve. Sledi čopiča se sicer rahlo vidijo, vendar morate biti reees blizu, da jih sploh opazite.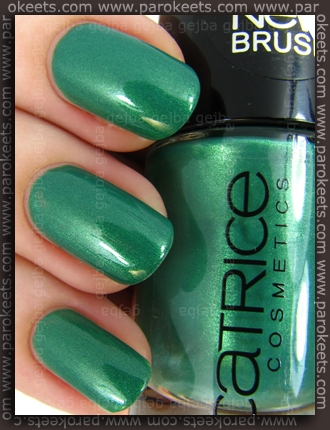 King Of Greens se je lepo nanašal … po opravljenem kirurškem posegu. Ena "ščetina" je bila predolga in sem jo morala skrajšati preden sem se lotila nanašanja. Uporabila sem 2 plasti in nadlak.
Se mi bo še katera pridružila pri mnenju, da je tale lak prav ? :D