Ko sem prvič videla swatche Chanel Graphite laka, sem se čisto zatrapala v ta odtenek. Vendar je cena Chanelovih lakov le visoka, tako da sem oklevala – bi ali ne bi. In potem se je zgodilo – med brskanjem po netu sem zagledala skoraj identičen odtenek – Jessica Smoky Feather. Če sodim po primerjavah, je Jessica malo bolj šimrast lak … in s tem meni še bolj všečen. Cena je pa tudi malo bolj privlačna kot pri Chanelu. Kontaktirala sem našega distributerja, da sem se najprej prepričala, če sploh pride  Jessica Peacock Queen LE k nam. Odgovorili so mi, da je že v drogerijah. In da ne boste mislili, da so "kopirali" samo Graphite odtenek … niti eden odtenek iz Chanelove jesenske kolekcije jim ni ušel.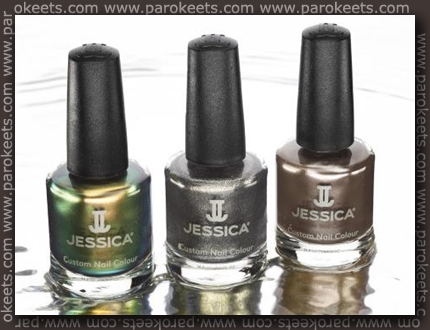 Kmalu zatem sem se dobila na kosilu z Maestro in ji živo razlagala kako lep je ta odtenek in da ga morava nujno poiskati … Veste kaj mi je odgovorila? "Še dobro da si še vedno zagreta za to barvo, ker sem ti nameravala za darilo kupiti Smoky Feather." Kakšno fantastično darilo! Hvala, Maestra!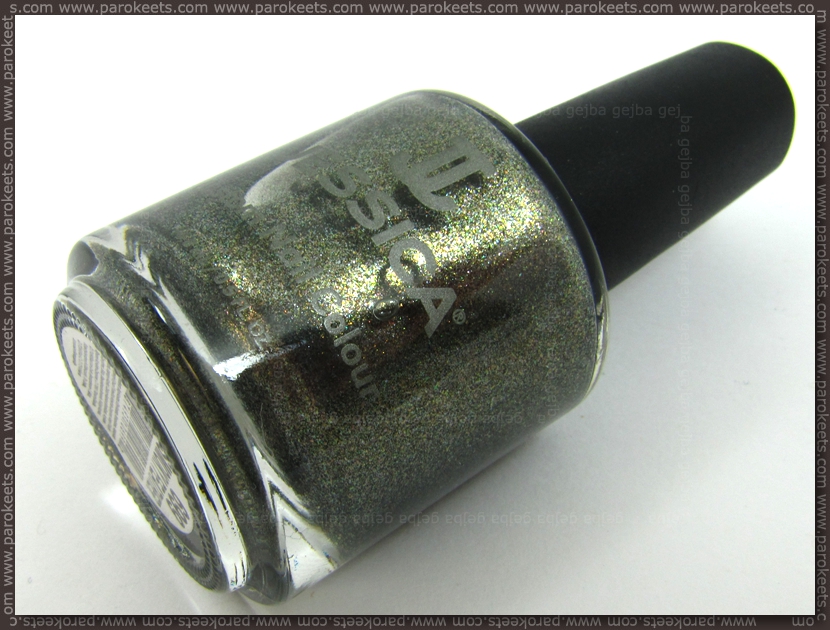 Malo me je sicer skrbelo, da me bo odtenek razočaral, vendar se na srečo to ni zgodilo.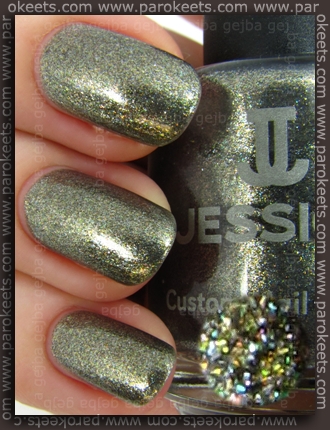 Nanašale se je lepo, čopič je tudi bil OK, le sušil se je malo prepočasi. Očitno Jessica ne mara mojega INM nadlaka. :D
Jessica Smoky Feather je na mojih nohtih kraljevala skoraj cel teden. In že vidim, da bo spet kmalu prišla na vrsto.
Posvetila sem ji celo kratek YT video. :D
Je med nami še kakšna ljubiteljica Chanel Graphite/Jessica Smoky Feather odtenka?