Iz Misslyn Peacock omejene izdaje sem kupila dva duochrome laka. Chameleona, ker me je firbec matral kako podoben je Chanel Peridot odtenku in Leguan, ki mi je bil najbolj všeč. Maestra je že napisala krasen in poglobljen review o Peacock kolekciji, tako da se v podrobnosti ne bom spuščala.
Želela sem vam samo pokazati mojo današnjo manikuro – Misslyn Leguan (št. 729) slojen čez Color Club Where's The Soiree.
Efekt mi je bil sicer zelo všeč, vendar me je motilo kar nekaj zadev. Leguan je že v štartu preveč frosti in prekriven za pravo slojenje … za moj okus seveda. Mogoče bi mi bila manikura bolj všeč, če bi uporabila dve plasti Leguana, a se je že prva plast tako počasi sušila (kljub nadlaku), da se nisem odločila še za eno. Iskreno rečeno, nisem prepričana, da bi druga plast kaj rešila, ker bi se proge še vedno precej poznale, samo bolj enakomeren nanos ni mogoče dobila. Naslednjič moram preizkusiti za bazo katerega izmed temno zelenih lakov – manjši kontrast pri napakicah, pa še preverila bom lahko, če je počasno sušenje posledica nekompatibilnosti z Where's The Soiree lakom.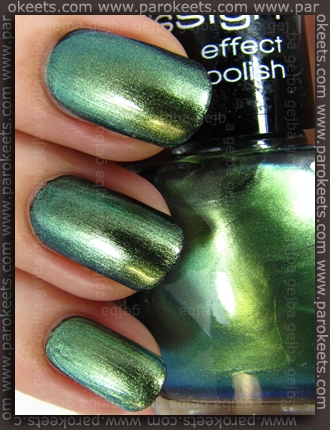 Je katera preizkusila Leguan odtenek čez Misslyn črni lak za nohte? Kako hitro se je manikura posušila?