Jajks – spet trend edicija z ogromnim številom lakov … ki jih seveda moram imeti, časa za swatchanje pa ni. Tokrat je za mojo dilemo (kaj swatchati in kaj ne) kriva Essence Season Of Extremes TE. :D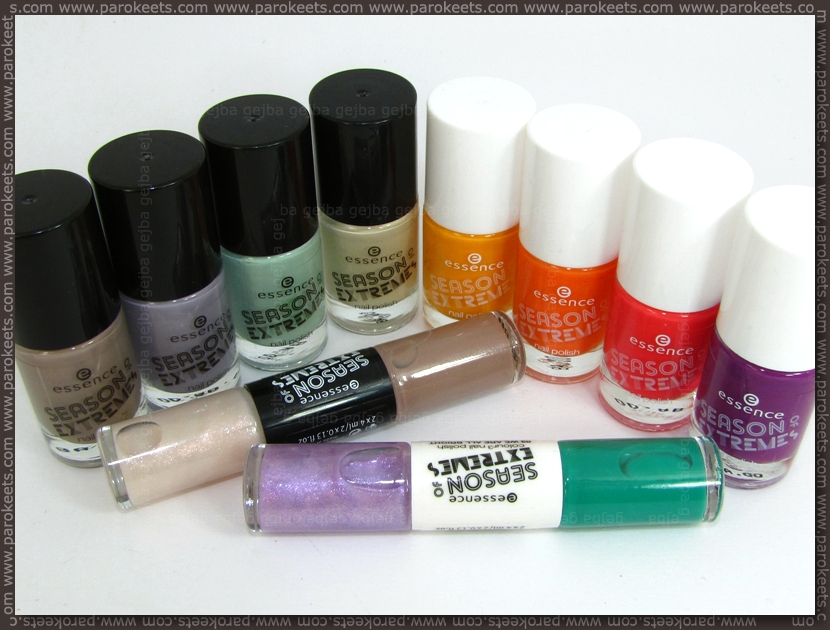 Omejeno kolekcijo lahko v grobem razdelimo na 4 kategorije … iz vsake sem kupila vsaj en lak.
1) Enojni "nevtralni" laki
The Nude The Better: rumenkasto bež odtenek v krem finišu. Moj čopič je bil na žalost katastrofalen – neenakomerno dolge ščetine, nekatere so bile praktično že "zunaj", čopič pušča črne delce …
Did Someone Say Nude?: pastelno zelen lak. Nanos je bil nekaj srednjega – pasteli pač. A plast nadlaka hitro reši problem.
Nude Or What?: hladno vijola barva s precej sive.
Nude Rules!: eleganten hladno siv lak za nohte.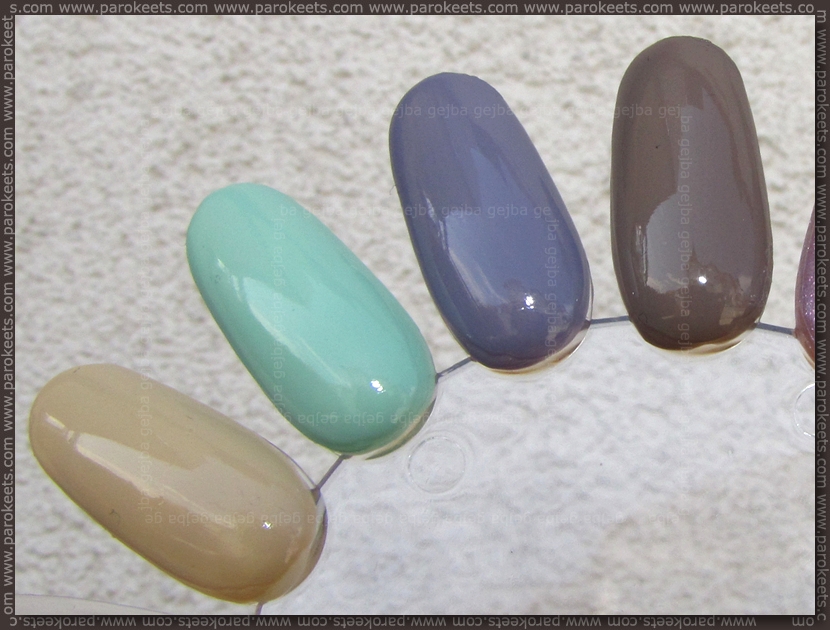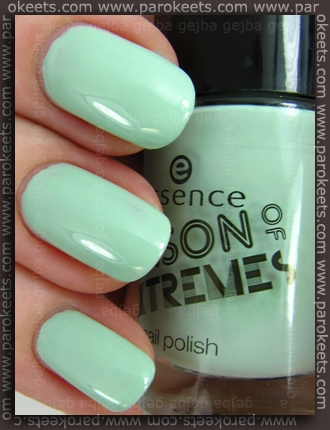 2) Dvojčki v "nevtralnih" odtenkih
My Best Nude Friends And Me: osnovna barva je toplejša rjava z drobnim šimrom. Na detajlu pa lahko vidite kako izgleda baza v kombinaciji z lakom za slojenje. 2 plasti + (lak za slojenje) + nadlak.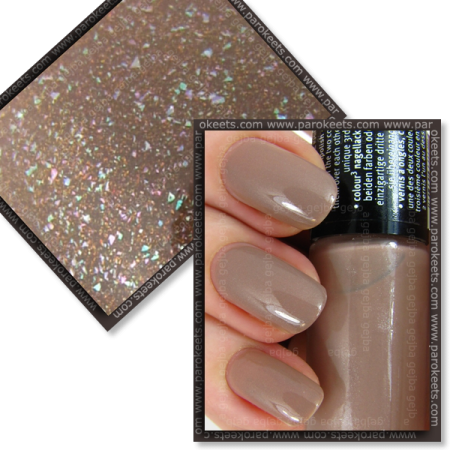 3) Enojni "živahni" odtenki
Pimp My Bright: rumen odtenek, ki pa ni sončno rumen temveč vleče rahlo na oranžno stran.
On The Bright Side: oranžen neon lak. Precej prosojen – konice so vidne tudi po treh plasteh, kar je precej običajno za neon lake. Jaz jih ponavadi tako ali tako nanesem čez belo bazo. Nanos ni bil težaven. Finiš – satenast.
Bright Alert!: roza neonček. Formula je enaka kot pri On The Bright Side laku.
Little Miss Bright: sicer zelo lušten vijola odtenek, vendar me formula ni navdušila – prosojna, neenakomeren nanos …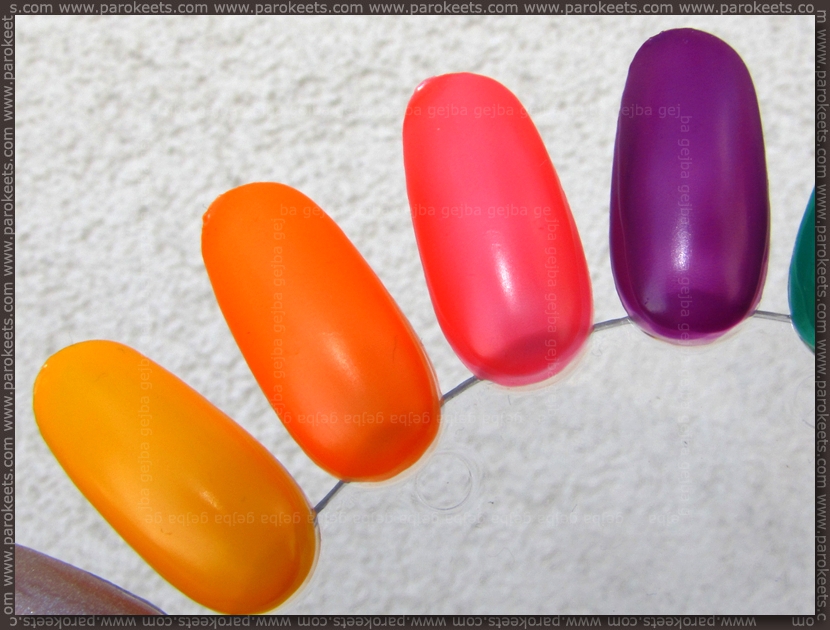 Bright Alert!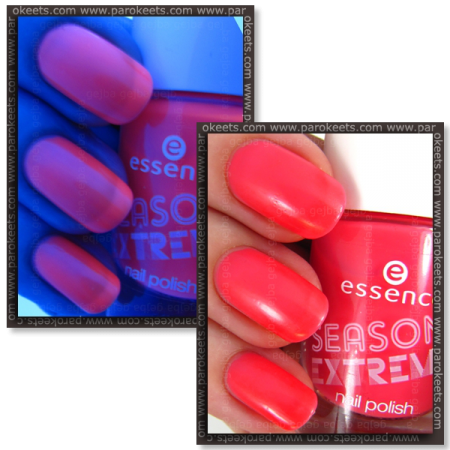 On The Bright Side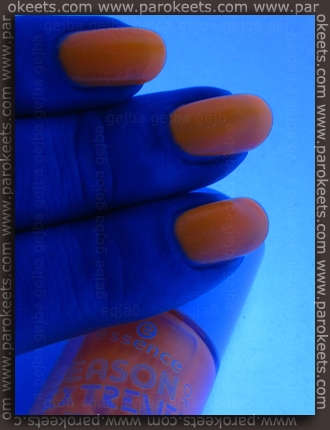 4) "Vibrantni" dvojčki
We Are All Bright: krem zelena baza je čudovita – ne tepe se z rumenkastim podtonom, krasen nanos, rahlo "zadimljena" tako da je precej nosljiv odtenek … Stran za slojenje pa mi nikakor ni potegnila – dolgočasna vijola barva …
It's Two Bright: moder del je tako lepe modre barve, da bi mi bilo žal, če bi ostala brez tega laka. Rumeno-vijola "nadlak", pa se mi je s časoma tudi malo bolj priljubil … vsaj malo več da od sebe kot We Are All Bright vijola.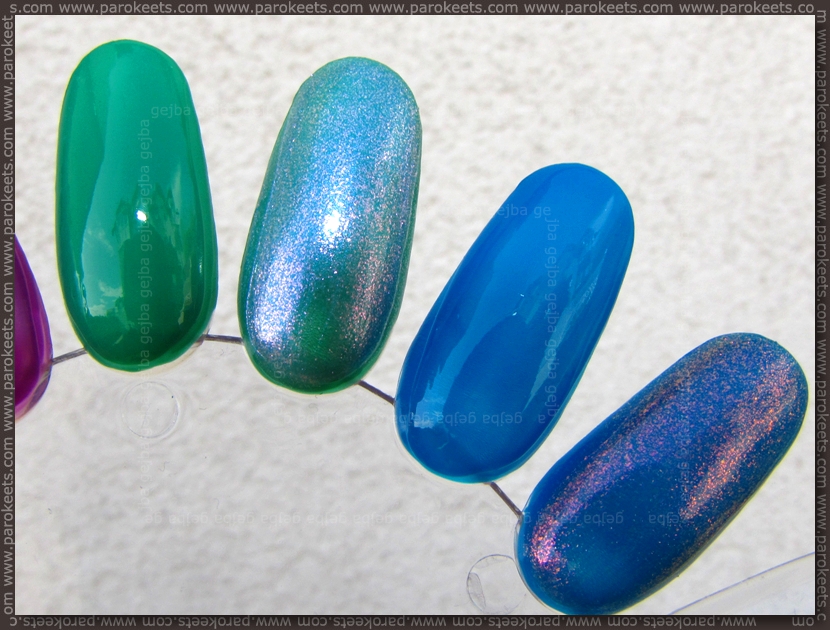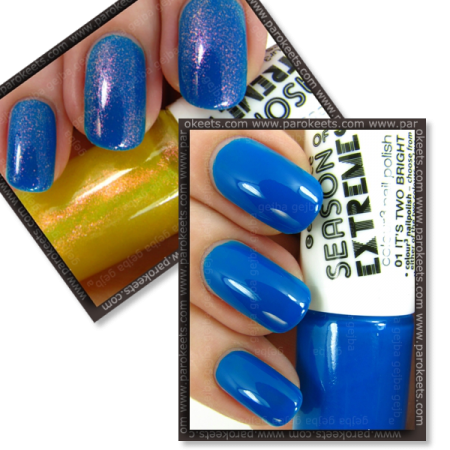 Katerem taboru pripadate – tistemu, ki pravi, da je Essence Season of Extremes dolgočasna ali tistemu, ki je našel nekaj zase?
Video ocena:
Ena za Sašo, ki je bila ob pravem času v pravem Mullerju. :D