Essence Break Through lak za nohte je bil zadnje čase veliko na tapeti. Forumi, blogi … nikjer ni dobil pozitivne ocene. Nanos je težaven in neenakomeren, kruši se … Seveda sem ga morala preizkusiti, da vidim kje se je zataknilo pri temu Colour&Go laku.
Vsaka ima svoj način nanosa, drugačno debelino slojev … tako da se mi je zdelo še najbolje, če posnamem mojo izkušnjo in nato pokažem končni rezultat. Takole se je Break Through obnašal na mojih nohtih:
[youtube]http://youtu.be/7MtDl–KQGM[/youtube]
Ne morem reči, da je bil nanos grozen, končni izgled pa neenakomeren. Formula me sicer ni ekstremno navdušila, vendar pa je to bolj posledica tega, da je za moj okus malo preveč tekoča.
Kar je mene osebno še najbolj presenetilo, je barvna razlika pod hladno ali toplo svetlobo. Kot, da bi gledala dva popolnoma različna laka.
Obstojnost bom kasneje dopisala, ko bom lak nosila vsaj dan ali dva. Po nekaj urah se še ni krušil … vendar to verjetno ni ravno nepresenetljivo.
Za swatch sem uporabila 2 plasti Break Through laka in eno plast nadlaka. Fotografija je posneta pri hladnejši svetlobi, detajl pa na sončni svetlobi.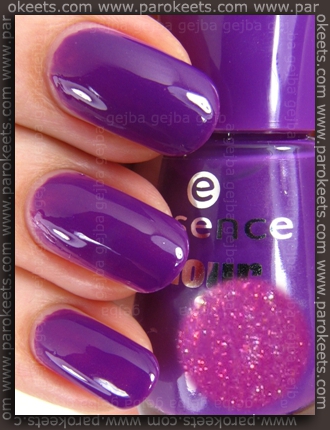 Odtenek ni meni pisan na kožo, vendar me je radovednost premagala, tako da sem ga morala kupiti takoj, ko sem imela priložnost.
Ste že preizkusile Essence Break Through? Kakšne so vaše izkušnje s tem odtenkom?