In one of the previous posts, I mentioned that the Essence brand sells two lines of nail polish. I already briefly presented the Multi Dimension line. Today, I'll present some shades of the Color & Go line. Bottles in this line are small and contain 5ml of product. The local price of the polish is € 1.49.
Color & Go line has two specialities. The first is that the bottle caps are the same or at least similar to the color of the polish in the bottle. This peculiarity is especially useful if you have your nail polish stored in a box or somewhere whereonly top caps can be seen. With such a cap you can just look at the cap and you know which polish is hiding beneath. Photo below shows the similarity between the bottle cap and the actual shade Sexy in Black…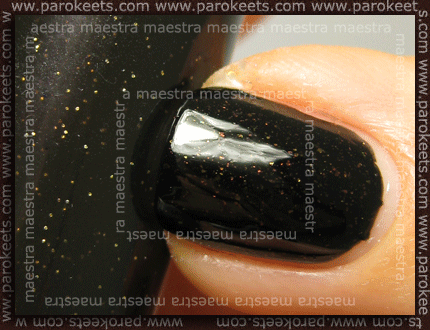 Another feature is the brush, which is slightly flattened. Flat brushes have recently become very popular. Over the Color & Go brush itself I'm not overly excited because because I had difficulties to do a nice curve along the nail cuticles, as is clear from the above photo.
Let's see what shades this line is comprised of…
Party On is a frogs' green shade (if I may say so) with frost finish. Despite the fact that I love unusual shades, this one didn't appeal to me at all. Probably because I am not a fan of polishes with frost finishes. In this photo, there are two coats of Party On shade, but it would be better with three coats, since after two coats the tips are still slightly visible.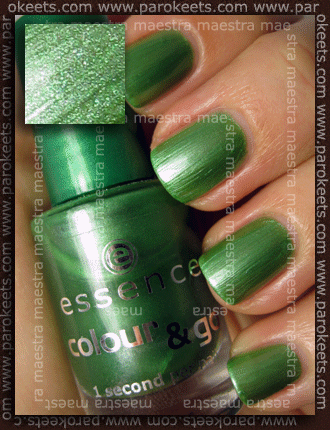 Rock It, Baby! is a purple shade with violet and blue shimmer. The color is beautiful. In fact, it is more purple IRL, as in the photo. Unfortunately, I had major problems with the application of this polish, because of its unusually thick consistency, which makes it very difficult to apply. I would normally say that this is just my bottle, but two of my friends had similar problems with this shade and I doubt that it's a coincidence. Too bad for such a beautiful shade…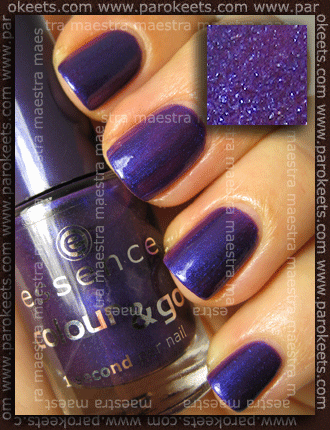 Rock Rebel is a beautiful deep blue shade with blue shimmer. Best thing about this shade is that the blue shimmer is also noticeable in the dimmer lightning. Application has been better than with Rock It, Baby!, but still not perfect. The consistency is thicker, but still manageable. As this is such a beautiful shade and the price is low, I forgive them the imperfect consistency.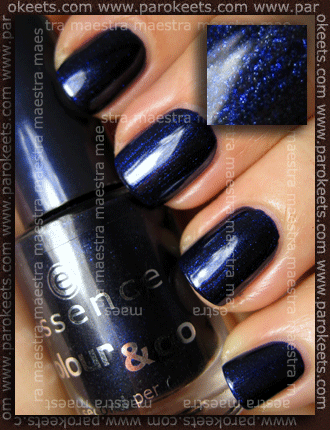 Sexy In Black is a black shade with different sized and different shaped gold shimmer. There is not a lot of shimmer in it, but it is enough and large enough to enrich the black base color. With this one I didn't have application problems.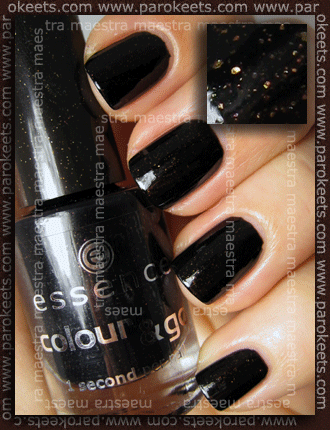 To briefly summarize. Line Color & Go contains a number of beautiful shades, but some disappoint on application. Also the brush is not useful for me, but I believe, that for some it is maybe the best brush. The price is very affordable, and therefore we can overlook small flaws. Compared to the Multi Dimension line, I prefer the Multi Dimension one. because of all things mentioned before
Essence week has not been completed yet…